Former American Idol judge and current mentor Randy Jackson announced on Twitter yesterday that he would be giving up one of his famous catchphrases. Gasp! No, he wasn't talking about "in it to win it" or his even more famous "dawg" line.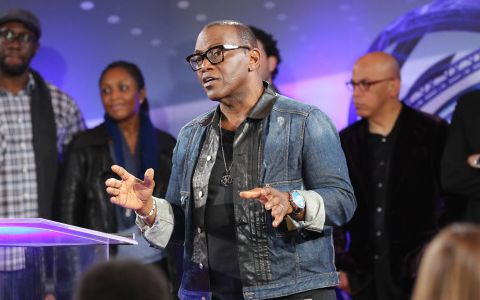 Instead, Randy said he was going to give up saying that one little word he just never could seem to live without… "Yo!"
I'm going to stop saying yo

— Randy Jackson (@YO_RANDYJACKSON) April 1, 2014
We can't imagine Randy Jackson without his "Yo!' on American Idol, or anywhere else for that matter! Even Randy's Twitter handle contains his most favorite word — @YO_RANDYJACKSON.
Well, turns out we won't have to be witness to a world in which Randy Jackson doesn't use the word "yo" in every other sentence. His tweet was all just an April Fool's joke for his fans.
YO! april fools. who got pranked the worst today?

— Randy Jackson (@YO_RANDYJACKSON) April 2, 2014
Yo! Randy! Don't be playing with us like that! We wouldn't recognize you if you gave up any of those infamous catchphrases of yours!