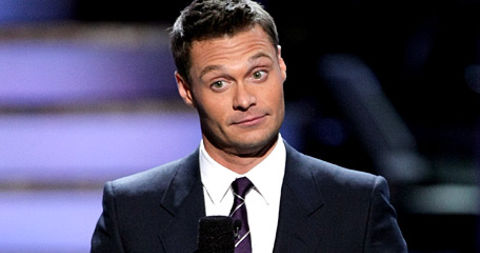 Ryan Seacrest has pure caffeine running through his veins. His blood was removed years ago and replaced with a constant supply of energy. It's the only way to explain the man who knows no limits to his work schedule. Now he may be adding one more ball to the juggling mix:
NBCUniversal is pursuing "American Idol" host Ryan Seacrest as a possible successor to Matt Lauer on the "Today" show, if Mr. Lauer vacates his co-anchor seat next year, said people close to the company.

To be sure, the talks are preliminary and could fall apart at any time. They also may be in part a negotiating tactic for NBC executives, who need a strong backup plan in case Mr. Lauer leaves the show. Mr. Seacrest is one of NBC's top replacement choices, according to people familiar with the matter.
A move like this would be a huge boost to Seacrest in a move from E! News to daily NBC morning flagship. But what about his Idol duties? Well The Today Show records in New York. American Idol records in Los Angeles. Unless Ryan wants to fly back and forth between coasts each night during the live portion of the season this would be a problem. Idol could always relocate filming to New York and keep their man in his hosting gig. It wouldn't be unheard of, but still tough.
Would you be sorry to see Ryan Seacrest leave American Idol if he took this Today Show job and couldn't do both?
Source: WSJ