In an interview after the American Idol Top 8 results on Thursday, finalist Sam Woolf was obviously a bit shell-shocked by what happened on the show. After coming in last in the votes, Sam had to sing for his life in hope of being saved by the American Idol judges. Facing that big moment of truth was truly an "oh my god" moment for Sam.
"I was just like Holy sh… crap man, this is like real. I honestly was like oh my god. I don't know, it was crazy," Sam said in the interview from Synergistic Productions. "I feel weird right now that just happened.
Sam said that he was confident in his performance on American Idol 2014 this week, but ended up on the bottom just shows him that "anything can happen." He thought everyone had "killer performances" this week, so it was really hard to pick who would get voted off by the viewers.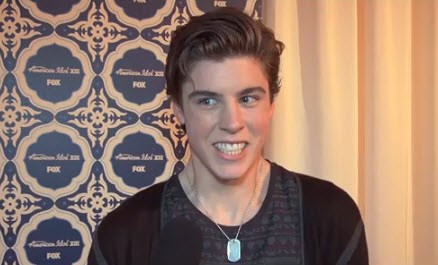 "I don't really try to hope for things. You just kind of see what happens, you kind of let it be," Sam said. "This definitely like hit me and I definitely have to step it up. I know what I have to do now. I have to connect, and let loose, and just sing."
Sam thanked his fans "for all your support" and said he is "very happy" to have the chance to sing again next week!