American Idol 2014 finalist Sam Woolf traveled all the way from his current home of Bradenton, Florida to Boston, Massachusetts to audition for season 13. And it's a good thing he did, because he made it all the way to the finals! Sam almost got sent home from the Top 8, but he he was lucky enough to win the American Idol judges' one and only save of the season to continue on in the competition. His fans rallied and managed to push him through all the way to the Top 5 before he was eliminated.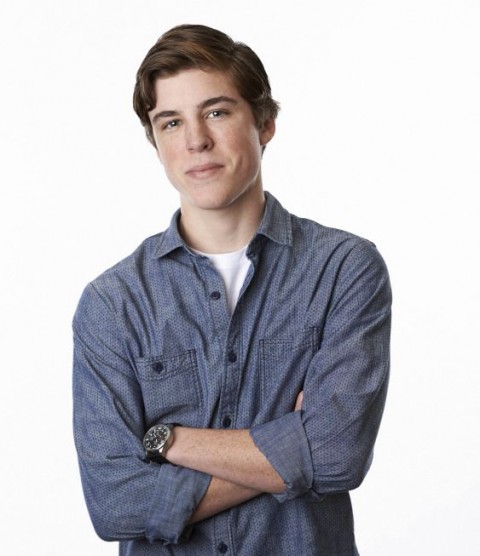 Website | Facebook | Twitter | YouTube | Fan Page | Idol Page
We first saw Sam in a press screener video from FOX for the new season, and we have to say we were rather impressed right from the start.  Not only is he young, cute, and plays the guitar beautifully, Sam can also sing a sweet rendition of an Ed Sheeran tune, and writes some really good original songs too!
Find out more about Sam Woolf before he came to American Idol and watch all of his performances on season 13 below!
Sam Woolf American Idol Performances
Road to Hollywood:
Top 31 This Is Real Profile:
Top 13 Interview:
Top 7 Peformance:
Top 6 Performance (Round 2):
Sam Woolf Background
Sam Woolf has one of those heart-tugging "back stories" we see often every season, although we think contestants should always be judged solely on their talent. His mother abandoned him when he was 13, and his father was dealing with depression issues and could not take care of him. Now 17, Sam was taken in by his grandparents, who have pretty much become his parents.
"I've been singing for as long as I can remember," Sam says on his website. "Music is my life. I play guitar and like to write my own songs. If I had to describe my music, I would say it falls in the lines of acoustic/folk/rock with a little pop. My songs mean a lot to me, and I want to share them with the world." In addition to playing cover songs, Sam has also written a number of original tunes like the one below, which we think is actually pretty stellar.
On his Facebook fan page, Sam says his musical likes and influences include Daughtry, Ed Sheeran, James Taylor, David Gray, Taylor Swift, and David Gray. He lists his style of music as "acoustic, folk, rock, pop" and his original hometown as West Bloomfield, MI.
On his personal Facebook page, Sam shares a bit more, including a post saying this was the "best summer I've ever had, can't wait until next year!" We're betting that was probably all about his success at the Boston American Idol auditions. We also note that he is a member of several groups related to the Berklee College of Music.
Before his American Idol 2014 audition, Sam had been playing out and about locally, including a six week gig at MacAllisters Grill & Tavern. After telling the owners he was going out on vacation for three weeks, Sam returned to the restaurant for another gig — with the American Idol cameras in tow. "He's just so talented and so attractive," Christine Lawless, an audience member at the performance, told Bradenton.com. "I guess I know who I'm going to root for on American Idol this year."
Sam Woolf American Idol Photos