This week on American Idol 2016 the Top 5 finalists prepare a pair of songs under the guidance of two mentors ahead of one more elimination in the final rounds of the Farewell Season.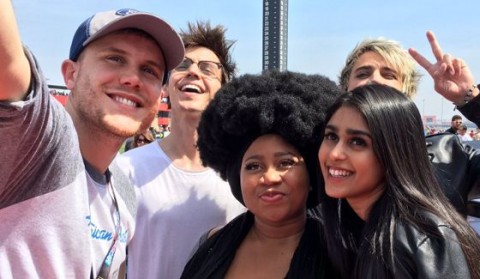 Starting on Thursday at 8PM ET/PT the Top 5 hit the stage and await the results of your votes which allegedly will finally, finally be the controlling factor in who goes home this week. It only took us until the last three weeks of the show before production trusted viewers to pick their own winner, but we have arrived!
Joining the remaining contestants will be Sia and Stevie Van Zandt, two fantastic mentors for the contestants. Sia will help the Top 5 pick and perform one of her hits along with a performance of her own. Meanwhile Van Zandt will be helping the Top 5 with a classic rock pick for this week. Nice!
As if that wasn't enough, Katharine McPhee returns to the American Idol stage for her own farewell performance which will be part of the continued parade of some of Idol's greatest talents to come through the show. This all has to be building up to a Carrie Underwood appearance, right??
Remember that there won't be a Wednesday show this week now that we're down to just one American Idol 2016 episode a week until we reach the big finale event in early April. Can you believe it's almost over??
Join us on Facebook, Twitter, and by Email Updates to get all the latest Idol news.