The American Idol Top 6 can sigh a breath of relief this week as only one contestant will be eliminated after week's of double elimination rounds.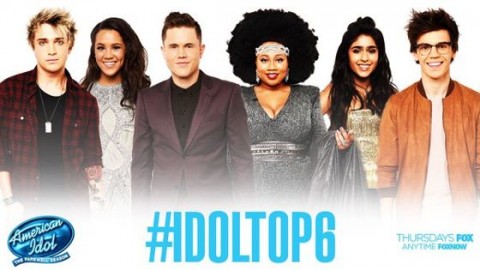 During Thursday's episode of American Idol on FOX at 8/7c the final six contestants will be back to await the results and, for the first time in viewer voting for this season, there will be no Judges Save to flip the audience's decision.
Songs this week will be from "America's Choice" as the singers will pick from suggestions submitted by fans on Twitter. This should give us a wide open array of performances for the night, but they won't be the only ones taking the stage.
Adam Lambert, from Idol Season 8, will return for a performance of his new song "Welcome to the Show." Considering there are only a few weeks left in the series I think this is a big endorsement of Lambert to score one of the last remaining opportunities for returning Idol contestants.
So who will be sent home from American Idol this week? Your votes in our poll put Tristan, Sonika, and MacKenzie in the danger zone for a possible Bottom 3. With no Judges Save around this time we can't wait to see what happens next!
Be sure to find us on Facebook, Twitter, and get our Email Updates for more of the latest American Idol results, updates, and news for all of the Farewell Season as we head to the series finale on April 7, 2016. Read the full Idol schedule here.