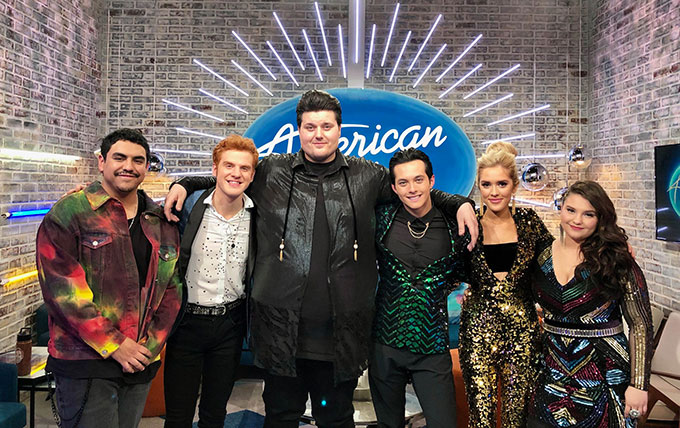 Tonight on American Idol 2019 the Top 6 will be performing two sings each. One Round will be inspirational songs and the other round will be songs from Woodstock (this year is the 50th anniversary).
On hand to mentor the contestants will be former Idol contestant Lauren Daigle. And once again, voting is live, so you can start sending your votes in for your favorites as s soon as the show begins at 8 PM EST. And by the end of the night, two more people could be going home if the judges don't use their one save of the season.
From ABC:
The stakes are high as the remaining "American Idol" finalists sing their hearts out in hopes of winning America's vote and advancing to the next phase of the competition. In this episode, each contestant will perform one inspirationally powerful "showstopper" song, with the help of former Idol hopeful and now GRAMMY® Award-winning artist, Lauren Daigle, who serves as celebrity guest mentor. Each finalist will also take on a song performed at the famed Woodstock music festival in 1969, which remains one of the most historic moments in popular music history. Sunday night's show will be the final opportunity for the judges to use their coveted save on one contestant this season. Last season's second runner-up and powerhouse vocalist, Gabby Barrett, returns to the Idol stage to perform her latest song, "I Hope," claiming her the No. 1 spot on Radio Disney Country's Top 50 Chart and continuing to rise to the Top 3 on SiriusXM's "The Highway." The journey to find the next superstar continues SUNDAY, MAY 5 (8:00–10:01 p.m. EDT/5:00-7:01 p.m. PDT), on The ABC Television Network, streaming and on demand.After making history last season as the first reality competition series on American television to allow viewers to watch and vote from coast to coast simultaneously, "American Idol" continues its simulcast once again in all time zones across the country. For this episode, viewers will be able to vote by text, via AmericanIdol.com/vote and on the "American Idol" app during the show. Results will be revealed at the end of the show in real time, across all time zones. The episode will be rebroadcast during its normal time slot on Sunday at 8:00-10:01 p.m. PDT on the west coast.
Be sure to join us back here tonight for our live coverage of the American Idol 2019 results. Find out if the judges use their save or if we will be down to the Top 4 by the end of the night.