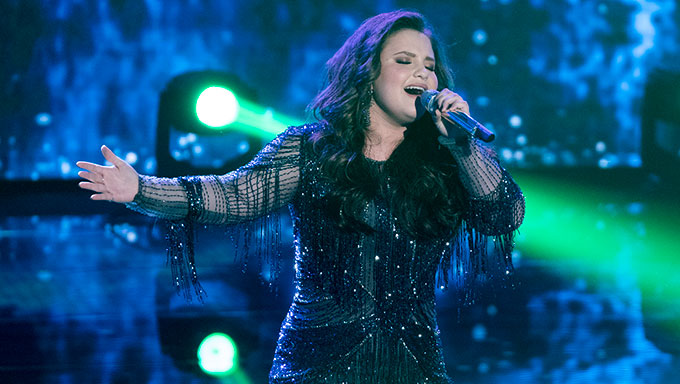 The American Idol 2019 Top 6 performed songs from Woodstock and "Showstoppers" (though few were actual showstopping songs). And then at the end of the night American and the judges made some questionable decisions.
Read on for the review and grading of each performance and the results at the end.
Madison VanDenberg, "Piece of My Heart." Well this was a surprise. I didn't expect her to do something so upbeat, but that was exactly what she needed to do. And it was good. Her vocals were as good as always and her energy was good. Grade: A
Laine Hardy, "I Don't Need No Doctor." This isn't a very well-known song for Laine's fanbase, but I think they're all pretty well sold on Laine at this point so he can do no wrong. I think he sounded great, but I was a bit bored by the performance over all, especially after Madison's energetic performance. Grade: A
Jeremiah Lloyd Harmon, "Swing Low, Sweet Chariot." Well this was a terrible song choice. And Jeremiah has been one of my clear favorites this season. It was just a really dated choice and if the song choices really mattered at this point he could be in trouble. I mean he still sounded great (those notes at the end were incredible) and I liked the arrangement but such a bad song choice. Grade: A-
Laci Kaye Booth, "To Love Somebody." Now this is a good song choice. And she sounded so great. I loved the arrangement and the look. Laci has definitely been one of the most unique this season and that continued tonight. I really liked it. Grade: A
Alejandro Aranda, "White Rabbit." Well this was an interesting song choice. I mean it definitely gave a trip nod to Woodstock. But it was definitely not a good performance. I found myself wanting to fast forward. I'm so confused over Alejandro. He's so much better than this. Grade: B
Wade Cota, "With A Little Help From My Friends." This was the clear choice for Wade with his voice. So I'm glad he didn't go with something else. I'm not much of a fan of Wade's sound, but this worked for him better than last week for sure. I still don't understand why the judges worship him, though. I'll never get it. Grade: B+
Madison VanDenberg, "I Surrender." Wow, that was a powerful performance. You can get much more powerful than Celine Dion and Madison really owned it. Grade: A
Alejandro Aranda, "Poison." Well that's the Alejandro we fell in love with. I think the trick is he's just much better at his own songs than covering songs. This was his best performance in weeks. Grade: A+
Laci Kaye Booth, "Open Arms." This wasn't the perfect song for her voice. It made her sound a bit weak, but it was still sweet and tender. I just really like listening to her. Grade: A
Jeremiah Lloyd Harmon, "Somewhere." This was a good song choice for him as far as his vocals go, but it might have been a bit of a safe and boring choice. Tonight wasn't Jeremiah's best nights as far as songs go. But he's still amazingly talented. Grade: A
Wade Cota, "Through the Valley." This was probably the only performance of Wade's that I didn't completely hate. I still don't get why everyone is so crazy over his voice, but this was actually the right kind of song for him. He had a much better week this week. Grade: A
Laine Hardy, "Johnny B. Goode." Well the show isn't pushing Laine or anything are they? I mean his name GIANT on stage behind him? Well I guess it doesn't matter what we all think about Laine then. This was a fun performance, but I don't see it as an inspirational showstopper song. Grade: A
American Idol 2019 Top 6 results
Safe and in the Top 4
Madison VanDenberg
Laine Hardy
Alejandro Aranda
Wade Cota
The judges still have the chance to save one of the bottom two. Are they going to do it this week? They do use the save. They choose Laci Kaye Booth.
Going home