Trevor Douglas has joined the enviable ranks of the American Idol 2015's Top 24 contestants with a shot at being the next winner.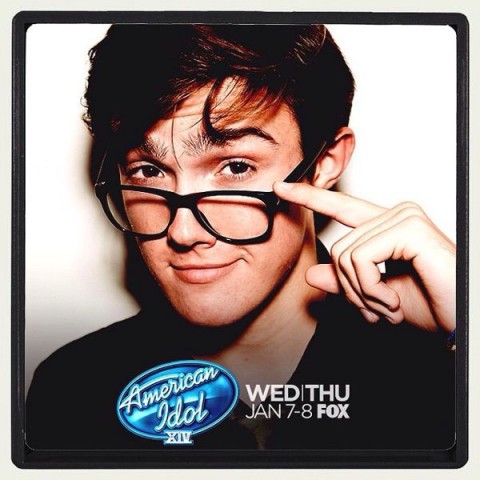 Trevor Douglas: Profile, Facebook, Fan Page, Twitter, YouTube – Photo: FOX
Trevor calls Texas home, but he traveled to Nashville for the Season 14 auditions and was featured there during the season premiere week's episode. With his Golden Ticket in hand Trevor was headed to Hollywood where it sounds like things went very well for this self-described "party in a box."
Check out Trevor's audition performance of "Sing" by Ed Sheeran and see if you think he's got the formula down for what it takes to win American Idol.
Douglas may be young, just 17 when he auditioned, but he's got the confidence and ambition to go far and keep us entertained along the way. We'll keep watching to learn just how far does Trevor Douglas make it on American Idol 2015.
Moving beyond the auditions and on to Hollywood Week, Trevor brought back his signature confidence to the stage with Ed Sheeran's "I See Fire" for his solo performance.
Checking out Trevor's YouTube channel you'll find a lot more performances including this one from the House of Blues where he's singing an original, "I Don't Know (What To Think)":
Trevor Douglas performs during American Idol 2015 Showcase Week
Trevor Douglas on his House of Blues performance
"Penomenal. My favorite part was though, in addition to being in the House of Blues of course was getting to play with that band because they're so good and skilled at what they do and I don't usually play with a band. I'm very intimidated by a band, just due to the fact that I use a loop pedal and so I'm very, it's all me on stage, not like in a conceited way but that's like truth. It is just me on stage with every, yeah, and like to have to play with them, it was really scary but it definitely, like I said, made me a lot better, but it was fun, the crowd, like all you had to do was like say, "Hey," and they were all like, "Ahh".