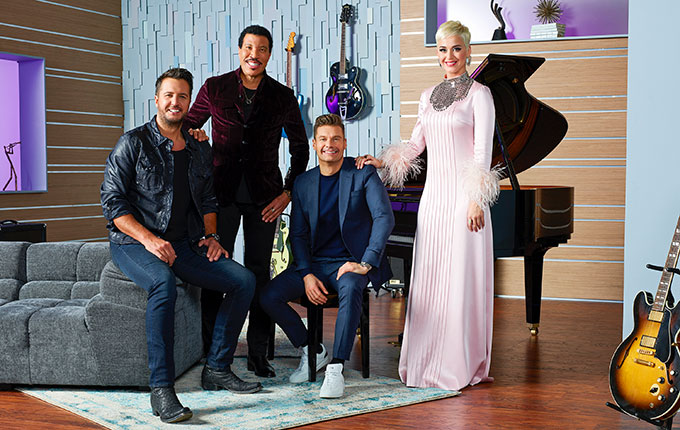 It's almost time once again for the return of the monster show that brought us Kelly Clarkson and Carrie Underwood! Yes, American Idol 2019 premieres Sunday, March 3 on ABC!
And back again are last season's judges Katy Perry, Lionel Richie and Luke Bryant. Ryan Seacrest returns as the host and Bobby Bones will again be on hand to mentor the American Idol hopefuls. The two-hour season premiere will feature auditions from Louisville, Kentucky; Couer d'Alene, Idaho; Los Angeles; New York; and Denver.
Last summer, the "American Idol" bus visited 24 cities across the nation in search of a superstar. As previously announced, viewers at home will be able to follow the inspiring journey starting SUNDAY, MARCH  3 (8:00–10:01 p.m. EST), on The ABC Television Network, when the first crop of Idol hopefuls audition for their shot at a ticket to Hollywood. The cross-country audition tour will move forward with an all-new episode on WEDNESDAY, MARCH 6 (8:00-10:00 p.m. EST), rounding out a talent-filled premiere week. New episodes will continue on Sunday, starting MARCH 10 (8:00-10:01 p.m. EDT), and adds Mondays for five consecutive weeks, starting MARCH 18 (8:00-10:00 p.m. EDT). — ABC
So there you have it. Premiere week will give us episodes on Sunday March 3 and Wednesday March 6. Then starting Sunday, March 10 we get every Sunday through May 19. We add Mondays starting March 18 through finale night on May 20.
And we will be back here once again to give you all of your American Idol Season 17 coverage. We will have song spoilers, results, recaps, galleries, previews and anything else we can find for you. So don't miss a second! But if you do, head right over here to find out what you missed! We'll see you back here March 3, but be on the lookout for American Idol spoilers coming soon as we finish confirming which hopefuls have made it onto the TV rounds!