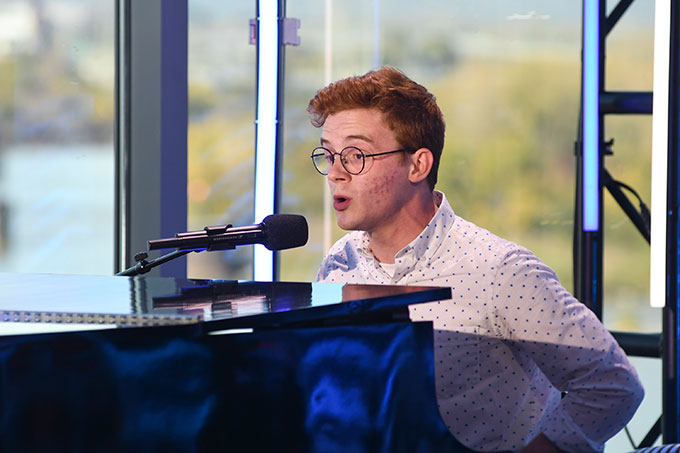 American Idol is back! That's right America! Your favorite singing competition show kicks off its second season (that's Season 17 for Idol purists) on ABC with a two-hour event tonight starting at 8 PM.
And guess what! We have the first 12 minutes for you to watch right now! Check out the American Idol 2019 sneak peek below, and get to know the very first hopeful of the season, Walker Burroughs, as he takes to the audition stage in Louisville, Kentucky. If Walker is any indication of the kind of talent we have to look forward to, we are in for a treat this season!
Not all auditions will be from Louisville tonight though. American Idol no longer follows that format where each night is a different city. We will see all the audition cities mixed in throughout the auction episodes.
The official episode synopsis: In the highly anticipated premiere episode, viewers will embark on a nation-wide journey starting with the shows' famed judge auditions in Louisville, Kentucky; Coeur d'Alene, Idaho; Los Angeles, California; New York, New York; and Denver, Colorado, where aspiring singers will see if they have what it takes to earn a coveted golden ticket to Hollywood. — ABC
Be sure to head back here later tonight for our first recap of the season. And if you don't want to wait weeks to find out which 14 American Idol hopefuls make it to the live shows and sing for you votes, just check out our American Idol Top 14 spoilers!
We will be here with you all season long as we bring you previews, spoilers, recaps, rankings and results! So don't miss a second. Also, be sure to follow us on Twitter and Facebook so you're as up-to-date as possible on all of your American Idol 2019 news. The next audition episode airs Wednesday night at 8 PM. It will also be a two-hour episode.