Why did Jennifer Hudson quit Weight Watchers after such a successful run as the company's spokeswoman? Thanks to some mysterious tweets from the former American Idol star, we can't help but wonder if something unpleasant may have gone down behind the scenes.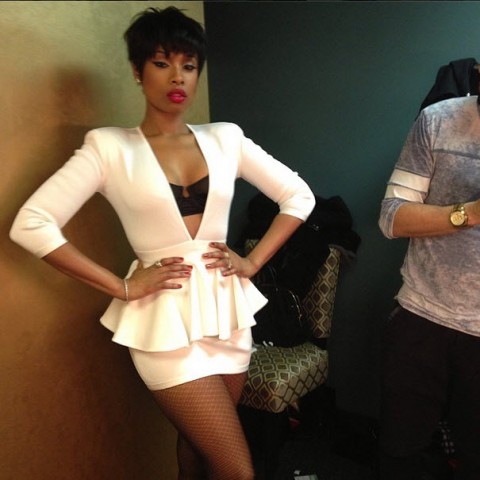 Former American Idol finalist and Oscar winning actress/singer Jennifer Hudson quit Weight Watchers this week after an 80 pound weight loss. She has has been a representative for the weight loss company since 2010. Jennifer's dramatic transformation has been a strong inspiration for her fans and weight watchers consumers.
Unlike some previous celebrity endorsers like Kirstie Alley, Jennifer has been able to keep the weight off after getting healthier. Recently, however, some critics and fans have started going after her for being "too skinny" and tabloid reports have claimed Jennifer's husband is unhappy with how much she's lost.
"Jennifer's weight has been an issue between them ever since she lost her first big chunk of weight in 2010," an insider allegedly told the National Enquirer. "Now she takes up to four hours to get ready when they go out, and she gets stressed out every time she puts a morsel of food in her mouth."
Could all this criticism over Jennifer Hudson's weight loss have something to do with why she left Weight Watchers as a spokeswoman? The answer might lie in a mysterious tweet the former American Idol star posted when she announced she was leaving the company.
"Sometimes you have to step back and let your work speak for you, and when that doesn't work you walk away knowing you did your best. It's been fun and a pleasure good luck to you all. @WeightWatchers," Jennifer tweeted.
That certainly didn't sound like the most happy parting message ever from Jennifer to the weight loss program that helped her shed over 80 pounds. Interestingly enough, that slightly snarky sounding tweet was quickly deleted and replaced by an official statement from Jennifer to People magazine online.
"I have chosen to step away from my role as ambassador and I am excited for the year to come, with many new projects and lots of new music. My experience with Weight Watchers has truly been life changing. I am grateful for what I have learned throughout the process and will always take it with me."
As for weight watchers, they responded with a very polite statement:
"We're confident Jennifer will remain a Lifetime Member. Jennifer's healthy lifestyle and successful weight loss has inspired so many – from her friends and family to our members and staff, as well as people around the world – and we know that inspiration lives on."
We would love to know what exactly happened between Jennifer and Weight Waters to cause the split. After all, if it was just an amicable parting of ways because she's too busy and doesn't want to think about a weight loss company every day… why the initial now-deleted cryptic tweet? Why didn't she and the company issue a joint statement of mutual respect, instead of going to the press separately?
All very mysterious…