Are you loving former American Idol runner-up Adam Lambert as 'Starchild' on Glee as much as we are? We think the rocker who should have won season 8 has some serious acting skills to go along with his killer voice. Well, happily we've just gotten our hands on new Adam Lambert Glee spoilers photos to share from his next upcoming appearance!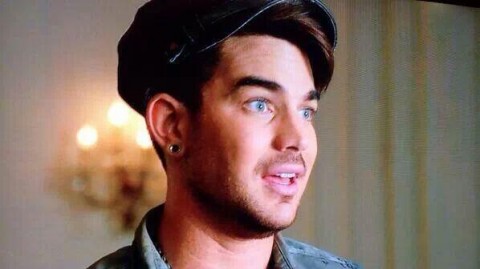 Adam Lambert, who just recently announced he'll be touring as the guest front-man for Queen this summer, will be back on Glee for the April 1st episode titled "New New York." He will, of course, reprise his role of rocker Elliot 'Starchild' Gilbert, who plays in a band with Kurt Hummel (Chris Colfer). And according to Glee spoilers for the episode, the two will be teaming up for an awesome duet, which you can take a sneak peek listen to below.
Sadly, this will likely be Adam's last appearance on the show this season before he sets off to prepare for his North American tour with Queen. We can always hope he'll pop back up again later for the final season of Glee. If not, we do hope we'll see him again on the small (or even big!) screen again in the not-too-distant future.
Check out the Adam Lambert Glee spoilers photos from the episode below! (Click the pics for bigger versions or to scroll through.)