We have the American Idol 2014 spoilers for the Top 10 song choices and there are some surprising picks from the finalists this week. We aren't sure to whether we should be excited about some of the American Idol spoilers song choices for the Top 10, or terrified at the potential calamity ahead.
* UPDATE: Click here for our full recap of the Top 10 performances show with videos!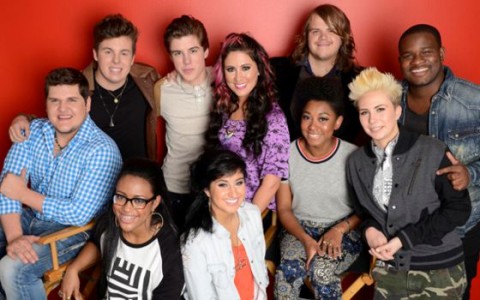 Last week on American Idol season 13, we had better performances from most of the finalists than we'd seen in weeks. We can only hope that this week's very contemporary theme will give us even better wow moments from the Top 10 contestants.
In case you missed the American Idol 2014 spoilers for the song theme this week, the Top 10 finalists will be performing songs from any of the Billboard Top 10 charts from 2010 to present. So the contestants had a huge amount of material to choose from, as they have pretty much all season so far. Plus, we were guaranteed that no one was going to escape having to show off how they could handle a contemporary hit song.
Here are the American Idol spoilers for the Top 10 songs we have so far, courtesy of The Idol Pad. We'll bring you the rest as soon as they are revealed!
Alex Preston – "Story Of My Life" by One Direction
– This could be a very interesting choice for Alex. It gives him the chance to compete with Sam for the teen/tween girl vote, and if he gives it his own unique twist, still could give him cred as an artist as well.
CJ Harris – "Invisible" by Hunter Hayes
– We feel maybe this was kind of a safe choice for CJ. However, it's a beautiful song and should suit his voice nicely. If he can really put an emotional 0omph behind it, he could shine.
Caleb Johnson – "The Edge Of Glory" by Lady Gaga
– Caleb is a crazy man. First he takes on Adele, now he goes after Lady Gaga? We can't wait to see this insanity. It will either be amazing, or horrifying.
Dexter Roberts – "Cruise" by Florida Georgia Line
– At this point in the competition, it would be hard for Dexter to go wrong with this kind of song. However, we feel like he maybe needs to shake things up and give his style a little more of a unique twist if he wants to win this season.
Jena Irene Asciutto – "Clarity" by Zedd/Foxes
– We've seen this song perhaps too often on reality TV singing competitions lately. Michele Chamuel absolutely killed it on The Voice. So Jena is going to have to blow this out to really stand out, and that could be difficult.
MK Nobilette – "(F****n') Perfect" by Pink
– This could be a saving grace song for MK, or the performance that finally really does get her booted. Honestly, MK has been so nervous and inconsistent on the show, we're just not even sure how to guess how she'll do with this difficult song.
Sam Woolf – "We Are Young" by Fun/Janelle Monáe
– This song choice kind of makes us cranky. After last week, Sam needed to do something fresher, but this is maybe a little too lightweight to make us take him seriously as an artist. Plus, half the song is just mostly talking fast and not really even singing.
Jessica "Jess" Meuse – "Pumped Up Kicks" by Foster The People
We frankly hate this song considering it is about kids shooting other kids, but this could be a good pick for Jessica if she rocks it out. If she gets too introspective and internal with it, however, this song choice could backfire.
Majesty Rose York – "Wake Me Up" by Avicii/Aloe Blacc
To be honest, we'd call this kind of a boring song choice for Majesty. It's more of a 'talking' song than one that really shows off your vocals. Until it gets to the chorus anyway. We'll be curious to see if she slows it down to give it more of a ballad feel. Still, safer might be better for Majesty after last week.
Malaya Watson – T"When I was Your Man" by Bruno Mars
It's always a little odd when a girl sings a song written from a guy's point of view. This could be a good song for Malaya though if she keeps it softer and smooth, rather than going full tilt belt on it. That's when she starts to sound like she's screaming and that's never good.