We loved American Idol hopeful Adam Lasher when he audition last year for season 14, and thought he had serious potential to make it at least to the finalist round. Unfortunately, he stumbled a bit during Hollywood Week and was eliminated by the American Idol judges. Despite a bit of fumbling, however, we think he was far more talented than many contestants who did make it through, so we're very happy to see him back again for the final season.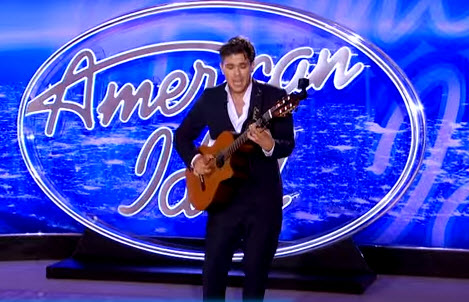 Adam Lasher has the honor of being the nephew of musical genius Carlos Santana, which is a big legend to live up to. But it's obvious that talent runs in the family. Last season during American Idol auditions, Harry Connick Jr. called Adam a "superstar" in the making. We're hoping this time around, Adam can live up to that glowing prediction for his future.
"I came back to American Idol because I wanted to show what I'm capable of," Adam says. "It's one thing to be good  and sound good, but it's another thing to really connect with who you are singing to. I think I have a second chance to do it, and I want to show the judges what I can be at 100 percent. So that's my goal now, not to give them any reason to let me go."
Can't wait to find out if Adam Lasher made it through to the next round of the competition? Take a sneak peek ahead in the season on our American Idol spoilers page!