It's Elvis week on Season 9 of American Idol and who better to mentor these new stars but Season 8 runner up Adam Lambert.  Ryan opens the show and sits with Adam for a moment in the front row.  I know he's high on something when he says, "my tongue is not nearly as talented as yours."  What?  When the season first started I knew Ryan was a little off but he has gone from bad to worse.  Perhaps a call to Dr. Drew may be in order to help the host.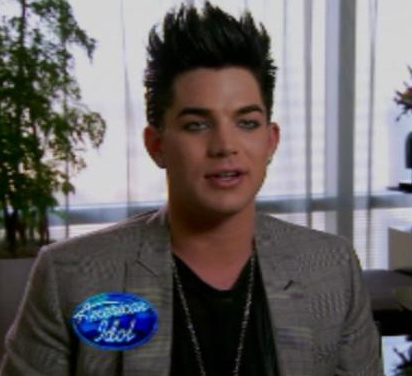 Adam gave some great advice to the contestants.  Unfortunately they didn't all use it.  He wanted Crystal to let the dreds down and shake them around but Crystal is too refined and with her vocals, she doesn't need to do all that but a little change up wouldn't hurt to keep the viewers interested. 
He told Andrew Garcia that his performance of "Hound Dog" was boring and encouraged him to change it up and step up his game which Garcia failed to do.  Randy said it definitely was not good karaoke.  I think we may see the end of Andrew tomorrow night. 
 Adam liked Tim's version of "I Can't Help Falling In Love" and thought the vocal and the guitar were both pretty.  Simon said he went from zero to hero in two week.  Very nice compliment. 
Lambert wanted Lee to work on his facial expressions and smile more. It worked well because his  performance of "A Little Less Conversation" was his best to date and the best of the night. 
Adam wanted Aaron Kelly to give more energy at the begining of "Blue Suede Shoes" and once again, a contestant doesn't heed the advice.  I will say that the second half was much better than the first but Aaron could definitely be going home tomorrow.
Siobhan screeched out "Suspicious Minds" which is my favorite Elvis song.  Adam thought she had good pipes but that the performance was sleepy.  It didn't come across like that to me so maybe she took his advice.  My problem with Siobhan is she argues with judges when they give her a bad critique.  Perhaps if she took their advice she would grow as an artist.
Adam wanted Big Mike to pick up the tempo a little with "In the Ghetto" and after watching the performance I can see what he was talking about.  I thought the vocals were perfect and the song powerful but it was definitely sleepy.
Katie Stevens sang a song for the judges with "Baby What Do You Want Me To Do" and Adam tells her to show her anger and frustration which she does really well.  She showed emotion and moved around the stage and hit the big notes.  I thought it was a good choice for her.  Did anyone else hear Ellen say something about a horny song?  WTH?
Casey James closed the show with "Lawdy Miss Clawdy" and Adam told him to go a little higher and give more of a climax.  Casey lacked intensity or passion with this song because something was definitely missing.  After such an amazing vocal last week I was disappointed with this and completely agreed with Simon when he said it was a wasted opportunity. 
How do you think Adam did as a mentor and which two contestants are in danger of going home?