Shania Twain was my favorite guest judge during the audition process and I'm not surprised they brought her in to mentor the Top 6 and sing her catalogue for this week of American Idol season 9.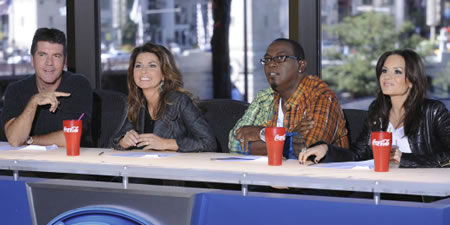 Choosing songs from her list is going to be hard.  I can see Casey James doing "Rock This Country" but I think he needs to slow things down this week and really show off his vocal range so maybe "You've Got a Way" or "It Only Hurts When I'm Breathing". 
Big Mike Lynche would do well with "From This Moment" and put an R&B spin on it.  That would be cool.
Aaron Kelly could choose "There Goes The Neighborhood" and do it justice.
I like Ka – Ching! for Lee Dewyze.  It's got a nice beat and he could come out and rock it with a smile and a little movement around the stage and that would be a nice change and something we haven't seen him do yet.  He needs to own that stage!
OK the women are actually hard to choose for.  Siobhan needs to show us all this week what kind of an artist she wants to be so whatever she chooses, she needs to put her own spin on the song.   Maybe "You're Still The One"?  Shania has a much lower voice than Siobhan so she needs to keep that in mind when choosing a song.  Crystal could change it up this week and surprise us all with "Man, I Feel Like A Woman" or if she wanted to keep it slow than "Forever and For Always". 
What do you think these contestants should choose from the Shania Twain catalogue?