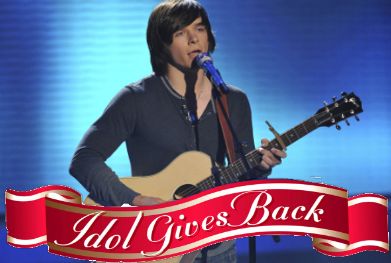 After sitting through 2 1/2 hours of sad videos and not so great performances, the american idol gods smiled and sent Tim Urban home.  I can't tell you all how happy I am that it was Tim and not my man Casey James but it was a close one.  All you Casey fans need to get on the phones next week and vote, vote, vote!
President Barak Obama and First Lady Michelle opened the show and thanks Idol and all the viewers for their continued support of charities.  I was wishing for a little serenading from the two but no such luck.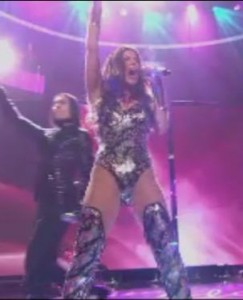 I wasn't real impressed with The Black Eyed Peas and kept wondering what in the world Fergie was wearing.  I think that outfit could have fed a lot of starving children around the world.  The group sang "Rock That Body" which wasn't real inspiring and then we cut to a pregnant girl gasping for her final breaths which didn't look good considering the song being sung.  It just wasn't the right time to portray something that emotional. 
I enjoyed the comedic act of George Lopez probably the best of everything aside from Tim getting the boot.  After a brief moment when he tells all the contestants to stand, he then says he is there to judge the judges.  He starts with Randy and says, "Every night you say pitchy. What do you think Kara? Think you're own thoughts. You feel me Lionel Pitchy?"  He said his cousin who works in the dog pound says dawg less than Randy.  He tells Kara he wall papered his house with her nudie magazine photos.  He asks Simon to wear a large t shirt and wants to know if it's saline or silicone which I thought was humorous.
We see Jeff Beck and Joss Stone perform as well as Alicia Keys and Carrie Underwood.  They were typcial and if you are fans of theirs you probably enjoyed it, if not you probably hit the mute button. 
The only time I teared up was when Annie Lennox, who is stuck in London due to the volcano, did a video with a young girl in Africa with Aids.  She did a before medicine and after medicine scenario and I was shocked.  It was the most inspiring moment of the show for me. 
Mary J. Blige and the All Star Band which included Randy Jackson, Steve Vai and Orianthi all perform "Stairway To Heaven" and being a Led Zepplin fan I thought they rocked it.  Orianthi can jam on the guitar and I enjoy watching her anytime she is on. 
Elton John is the last song of the evening and we find out that over 15 million dollars has been raised so far which is awesome for all these charities around the world.  And the final results come down to Casey and Tim and we get the most wonderful news that Tim Urban has been voted out. 
How did you feel about these results?