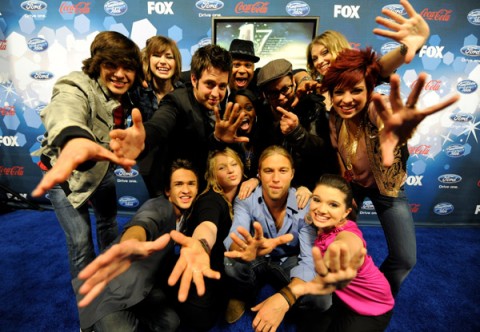 Thursday night we were shocked to find out the members of the Top 12 for American Idol Season 9.  We learned two of our favorites were eliminated from the competition while others with questionable vocals sailed through.  Here is my rating for the finalists based on last week's performances only and these in no way reflect my personal favorites.
1.  Big Mike Lynch – Once again Mike delivers an outstanding vocal this time as an R&B candidate.  If he keeps this up he may win the whole thing.  Hat's off to this young man.
2. Crystal Bowersox – Crystal is a close second and definitely leading the girls as she continues to deliver one great performance after another.  I don't think she will have a problem bringing it with whatever she chooses to sing from The Rolling Stones.
3.  Didi Benami – I love the girl and thought she finally brought her A game and showed us how truly talented she is.  I hope she continues on with her comeback and really nails her song this week.
4.  Siobhan Mangus is rated just above Lee Dewyze because of the beautiful a cappella version at the beginning of "House of the Rising Sun". 
5.  Lee Dewyze is keeping things current each week which I love.  At least he is trying to connect with the viewers and is starting to get the pitch problems under control.  If he continues to improve he will be in a good position to make the top 5.
6.  Casey James – He is my man and I thought his vocals were so much better this week.  He needs to stick with country because that is where he shines. 🙂
7.  Tim Urban is not in the bottom two this week.  I loved that he sang on key throughout the entire song even though "Hallelujah" has been way over done.  Who would have ever thought he'd make the Top 12?
8.  Lacey Brown's performance while boring was good vocally.  She has a lot to prove after the last few weeks but she did quite well with "The Story".
9.  Andrew Garcia – You know it's sad to see Andrew falling so far down the list.  He had the most promise going into the Top 24 but each week he is getting worse.  I hope he can turn things around.
10.  Katie Stevens has also fallen since coming into the semi finals.  I think she is having a problem picking songs and is trying to impress the judges more than just singing what comes naturally to her. 
11.  Aaron Kelly was a big disappointment last week.  He should have left the competition instead of Alex but what can we do?  His vocals were by far the worst of the night for the guys and if Tim keeps doing well, I see him leaving the comp real soon.
12.  Paige Miles gets the vote for worst overall performance.  How can you turn "Smile" into one of the saddest songs in history?  She should have gone over Lilly.
Who is at the top of your list for these top 12 contestants?
According to Access Hollywood, Siobhan Mangus is singing "Paint it Black".