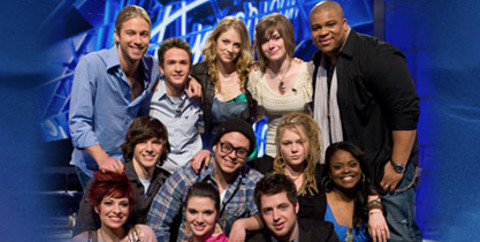 The Top 12 for American Idol 2010 are here and whether you like it or not (and from last Thursday's reactions, most of you do not) these are the dozen hopefuls you'll have to pick from as we whittle our way down to crowning a winner.
Tonight's performances will feature both the girls and guys on the same night for the first time of the season as they break out the Rolling Stones' catalog of songs. Oh poor Tyler Grady, he must be rolling in his grave to know this would have been his chance at 60's British Invasion Rock. I'm not so sure how these singers will handle the Stones, but they'll definitely have some great tunes to pick from. Anyone want to try and predict who calls dibs on Sympathy for the Devil? I just want a solid job on Paint It Black and I'll be happy to call it a night.
Check back in tonight at 8PM as we discuss the 2-hour show live in our Idol chat room! Stay on top of the latest American Idol news when you follow us on Twitter!