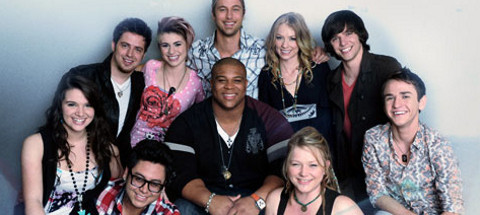 It's time to bring on the rhythm and blues as guest mentor Usher brings excellent advice to the American Idol Top 10.  I thought he gave all the contestants outstanding feedback and gave enough constructive criticism to help them grow as a performer. 
Siobhan Magnus was up first and Usher gave her fashion advice because he doesn't want her to have too much going on that it takes away from her performance.  She sings "Through the Fire" and Usher needn't worry because with her loud screeching she definitely had everyone tuned in.  Randy says "yo, big song…All over the place."  Ellen says something about hiking. (What?) Kara says that she is entitled to one off week and Simon tells her she is kidding herself if she thought that was a good performance. (ouch!)
Casey James is up next with "Hold on I'm Coming" and Usher seems impressed with Casey and his guitar playing.  He does an exceptional job and I'm not just saying this because of my obvious obssession with his looks but he really delivered tonight.  Randy says "this is another hot night for you."  Ellen said it felt a little generic (like she knows).  Kara thinks he has more range and Simon says it was his strongest week.  Great job Casey! 🙂
Next we have Big Mike with "Ready for Love" and Usher tells him to project to the back of the room.  He tells him chicks dig a guy who can play the guitar and sing.  (I guess Usher didn't know he was married with a new born baby).  Way more laid back than usual with him just sitting on stool.  Randy says very sensitive song, you are in the zone.  Ellen says that was beautiful and then makes a joke about him singing with his back to the judges. Kara says you did an incredible job.  Gee thanks Kara! And Simon says that is the first time I can actually take you serious as an artist.  I guess I missed something because I thought it was kind of boring.  Oh well.
Didi Benami sings "What Becomes of the Brokenhearted" and sigh, it wasn't good at all.  She starts crying during her time with Usher (another sigh).  I thought it was boring and didn't think she connected with the song at all.  Randy says the performance flatlined.  Ellen says it was too dramatic.  Kara says it was over done and Simon says it was like swimming in jelly and over the top.  He said "you have completely and utterly lost your way."
Tim Urban aka Sanjaya comes out with "Sweet Love" and manages to stay on key and that was the only nice thing to say about it.  I can stay on key guys I mean come on.  He can't hit the high notes out of his reach and gives a really boring performance.  I read today they were making a reality show out of Glee and I think it would be a good opportunity for him to try out for that.  Randy said you had no vibe.  Ellen says something about a drinking game and adorable.  Kara says you took the soul out of the song and Simon says it makes no difference what we say, completely inappropriate song but nobody cares because you will be here next week.  All Tim does is laugh at the judges.  I'm sure the worsters are jumping up and down with joy.
Andrew Garcia reminded us of why he is in the top ten with "Forever".  Usher tell him to stop analyzing so much and connect.  So much better than previous weeks thank God!  Randy says Andrew's back.  Ellen says that was a really amazing strong performance.  Kara says that is one giant leap in the right direction and Simon says it was miles better than what we've heard but you come across as boring.
Katie gives a decent performance tonight with "Chain of Fools" and Usher wants her to have pizzazz and attitude.  She does a good job of staying in tune and does great when she hits her power high voice but does come across as much older than she actually is.  Randy says one of the best performances of the night.  Ellen says you have half a snooki poof going on ( haven't you said something like this before?).  Kara says this is one of your best performances and this is your genre while Simon says it was pretty good and very robotic.  He and Kara disagree and which style of music Katie should sing. 
Lee Dewyze delivered the best vocals of the night for me with "Treat Her Like a Lady".  Usher tells him he has an incredible voice and to just own it.  He says if you don't believe it, they won't.  He is impressed with Lee.  He changed it up to give it a rock vibe.  Very well done.  Randy says "check this out, unbelievable!"  Ellen says now the night's started.  Kara says it was amazing and Simon tells him to go home and watch the show back and realize this is the night your life might have changed forever.  Great compliment!
Crystal Bowersox also delivers an astounding performance with "Midnight Train to Georgia" and Usher tells her to play the piano and make it second nature.  She blows it out and proves she is versatile with that song.  Randy says another amazing vocal while Ellen says you are in it to win it.  Kara says I'm so glad you took that risk and Simon says her choice of song was amazing but didn't like the backup singers.  He doesn't want her to change into something she is not because he has no issues with her.  We all know she is your fav Simon.
Aaron Kelly ends the show with "Ain't No Sunshine" and Usher tells him to make the "I know" personal and give him theatrics.  Another just ok song for me by Aaron.  Randy says it was just allright for me.  Ellen says good song choice and good job.  Kara says I liked it but didn't love it and Simon says I'm not jumping out of the chair.  Neither am I Simon. 
I thought Usher really gave good solid advice and was a much better mentor than Miley.  What did you think of tonight's show and who was your favs?