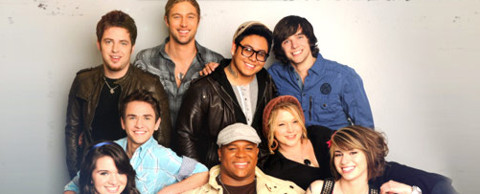 There was no mentor on American Idol tonight and I think the singers faired pretty well.  Even Tim Urban aka Sanjaya wasn't too horrible.  Instead the contestants spent some time speaking about each other before they sang. 
First up is Aaron Kelly and we find out he is called Yoda because he tries to sound like the Yoda from Star Wars.  He sings "Long and Winding Road" and gives us zero stage presence but does change up the melody and I thought it was ok.  Randy said he liked the beautiful tone; Ellen says it felt like a long and winding song; Kara said to give some tempo next week and Simon says it was old fashioned and boring and that he needs to be young and relevant.  Simon gets heckled by a guy in the audience.
Katie belts out "Let It Be" after we learn she has had several offers to take her to prom.  She tells them if they will send their phone bills she will go with the one who votes for her the most.  Great answer!  By far the best I've heard her sing.  Randy says, "yo yo yo, listen to me, this is your best performance ever!"  Ellen says it was amazing.  Kara says she is blossoming and confiden and Simon says tonight she got it right because she is leaning in the direction he told her and that is country.  Sorry Simon, I didn't get the country vibe from that.
Andrew Garcia probably delivered the worst performance of the night to me with "Can't Buy Me Love".  It was karaoke and cheesy and I didn't like it at all.  Randy said it was a really solid performance but a little corny.  Ellen makes a joke about buying love.  Kara says she didn't see anything that she didn't already know and Simon says it was irrelevant.  He didn't like the band.  Simon gets heckled again by a member of the audience.
Big Mike Lynche sings "Eleanor Rigby" and I liked the bluesy spin he put on it.  I didn't love it but it definitely wasn't horrible.  Randy says the parts that did work were great.  Ellen thinks he can do anything.  Kara says it is one of her favorite performances from him and Simon thinks it sounded like something you would see and hear in musicals.  Randy then admits that it was a little theatrical.  Once again Simon gets heckled.
Crystal Bowersox aka mamsox as the others call her did a great rendition of "Come Together".  She has a guy playing the didgeridoo on stage with her.  I don't think she needed that buy whatever.  I loved her riffs and she definitely made the song her own.  Randy said he didn't know if it was her best but she was in the zone.  Ellen says she needs a new way to tell her how great she is.  Kara said it was slinky, sexy and playful.  Simon says that's a song I can hear on the radio because it just works. 
Tim Urban bless his heart has to sing after Crystal so I'm already feeling sorry for the guy.  They all say he is always happy and smiling.  He sings "All My Loving" and it wasn't too horrible.  He was playing the guitar tonight and I thought he did better than most other weeks.  He had The Beatle's look going for him.  Randy says he is judging him based on Tim performances and by that standard it was good.  Ellen says he did very well.  Kara says she likes it when he plays the guitar and Simon says based on tonight he thought Tim did really well.  He thought it was the right thing to do with him and the guitar and thought it sounded current.  He also said Tim takes criticism like a man.  Great comments for Tim this week.  It looks like he will be around for a little longer.
Casey James delivers the best song of the night with "Jealous Guy" and I loved the accoustic guitar and soulful voice.  I was amazed he could actually sing that good and I am a huge fan of his.  Randy loved the sensitive side and proud he took that leap.  Ellen says it was his best performance to date.  Kara said he showed depth and vulnerability tonight and Simon calls him goldilocks and tells him it was the best of the night. 
Siobhan Magnus shows a different side with "Across the Universe" and doesn't scream at the end of the song.  She is on pitch and has a good tone but it was pretty forgettable and boring.  Randy said he liked the tender side.  Ellen says she marches to the beat of her own drum.  Kara said she showed control and hit the notes but thought it was restrained and Simon says is was much stronger than last week.  Simon gets heckled again and he turns around and has the guy stand up and Ryan brings him up on stage and we find out his name is Earl.  Thanks for that Ryan because I'm sure everyone was dying to know.
Lee Dewyze closes the show with "Hey Jude" and we find out he and Andrew are very good friends.  He plays the accoustic guitar and I think it is pitchy and not as good as last week but he brings down a guy dressed in a kilt playing the bagpipes and it was hilarious.  Randy says another hot night for you.  Ellen says good job on not flipping out when the guy (bagpipe player) got separated from his parade.  Kara says there were a few off moments but I'm still a fan and Simon says he wouldn't have done the bagpipes because it looked like he turned up on the wrong show.
All in all it was a pretty good week for idol fans and my guesses for bottom three are Andrew, Tim and Aaron with Andrew going home.  What do you think?