The new American Idol 10th Anniversary CD is now available everywhere!  If you've missed your favorite contestants from years past, look no further because now you can listen to all your favorites on one CD.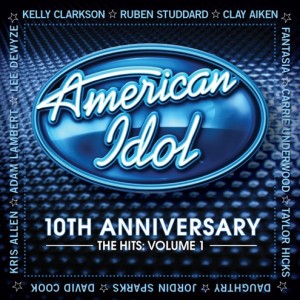 Each winner from the past 9 seasons are represented along with some runner up favorites like Adam Lambert, Clay Aiken and fourth place finisher Chris Daughtry.   The CD is available on iTunes and on Amazon
so grab your copy today.
Here's your play list:
1. Kelly Clarkson – "Since U Been Gone"
2. Ruben Studdard – "Superstar"
3. Clay Aiken – "Invisible"
4. Fantasia – "When I See U"
5. Carrie Underwood – "Before He Cheats"
6. Taylor Hicks – "Takin' It To The Streets"
7. Daughtry – "Home"
8. Jordin Sparks (duet with Chris Brown) – "No Air"
9. David Cook – "Light On"
10. Kris Allen – "Live Like We're Dying"
11. Adam Lambert – "Whataya Want From Me"
12. Lee DeWyze – "Sweet Serendipity"
Is there a person or song that should have been included on this list?