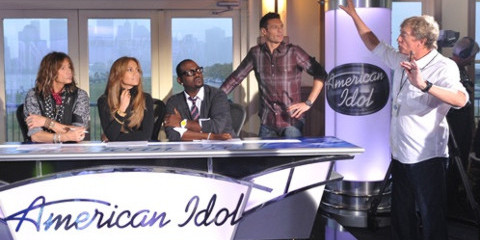 Nigel Lythgoe continues to be an everlasting fountain of news for the upcoming American Idol season which premieres in January 2011. The latest word from the returning executive producer is that he's doing away with the Top 24 this season after finding them dull in past seasons:
The producers have also eliminated the round that shrinks the contestants from a group of 24 to 12, instead opting to just go straight to the top 12.

"I didn't think [the top 24] were very good, I was bored with them by the time they got there," Lythgoe says of previous seasons.

It's unclear if this means the judges will choose the top 12 and what will replace the episodes that usually cover the early voting rounds. Both Fox and the producers declined to elaborate.
Ya know, if you think the past Top 24 contestants have been boring, well guess who was in charge of making those casting decisions?… Yeah. You, Nigel, and the rest of the production crew. If you didn't like them then there's no one else to blame.
Along with eliminating the Top 24 this season, American Idol will introduce new "challenges." The singers will have to create music videos, "promote themselves" (whatever that means), and develop an awards show type performance. Next they'll have to learn how to operate the TV cameras themselves while another Idol hopeful peddles a bicycle to generate enough electricity to light the stage!
These are some serious changes being introduced and I can't help but wonder if they're doing too much all at once. Do you think American Idol needs this big of a shot in the arm or are they leaping when they should be baby stepping?
Source: TV Guide