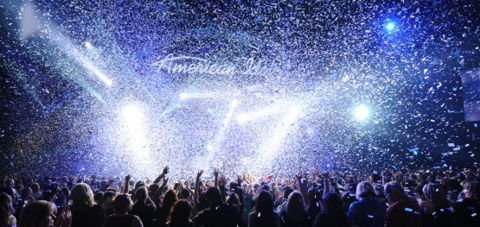 Whoa! Scotty wasn't the only big winner last night. American Idol 2011 picked itself up off the ground after its Tuesday night finale performance show ratings decline and went on to shine. For the first time in FIVE years the Idol finale outdid its previous year and it did it in a big, big way!
Fox dominated the final night of the 2010-11 broadcast season with the two hour seaon finale of American Idol which scored a 9.2 adults 18-49 rating and 29.3 million viewers.

That was up 12% for adults 18-49 and 21% for viewership compared to last year's finale 8.2 adults 18-49 rating and 24.223 million average viewers.
When the show ran over, despite Ryan Seacrest's best intentions, 38.6 million viewers stayed tuned in to find out who had earned the most votes. That's incredible! Hopefully that's finally enough to keep everyone satisfied that American Idol 2012 will definitely be another big event.
Do you think last night's show earned it's ratings increase over last year? I know I enjoyed it and can't wait for the season's return.
Source: TV By the Numbers