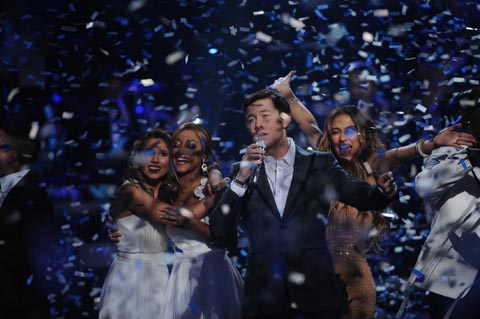 Scotty McCreery is our 2011 American Idol.
My prediction was wrong and I'm actually happy about that. Are you? In case you don't know, last night, after Lauren Alaina's sappy song about moms, I said she'd take the crown tonight. I also said I'd prefer Scotty to win, so I'm happy to be wrong.
Scotty's emotional win came at the end of 2 hours and 7 minutes of OK-performances, almost no surprise musical guests, and a massive pimping of artists' new albums, tours and even "Kung Fu Panda 2." In other words, aside from Scotty's win and Steven Tyler's performance, it was pretty much the worst finale ever.
Why did they tell us who the musical guests were going to be before the performances? That's always been my favorite part… where they start a medley and you're like "ooooh is the artist they're singing really going to show up or not!???!" Then one of the Idols says "Ladies and gentlemen …" They always show up but I still like the element of wonder and surprise. So I was VERY disappointed by the lack of that.
I was also very disappointed by the performances of Gaga, Beyonce and "Spider-Man" the musical. I wanted to see MORE Top 13 performances mixed in with guests. I wanted Paul McDonald to duet with Rod Stewart. I wanted Pia Toscano to duet with Celine Dion. I wanted more of the "Idol" finale format I love.
The best performances were Steven Tyler's "Dream On," Scotty's duet with Tim McGraw, the girls doing the Beyonce medley and the Lauren and Carrie Underwood duet. But wow, did Lauren seem like a karaoke star singing next to Carrie Underwood.
The worst performances of the night were the guys' Tom Jones' medley (even though I did finally get to hear Stefano Langone sing Prince via Tom Jones) and Casey Abrams and Jack Black's murder of Queen's "Fat Bottomed Girls."
We also got the typical montage where we make fun of all the people who didn't make it on the show. And this year, we got a montage of each of the judges. Randy Jackson's just featured his arrogance and Jennifer's showcased her diva ways. Steven's was all about his dirty mouth and lust for the ladies. In other words, it was hilarious.
It's been a season of ups and downs. It started out huge and slowly became the same "American Idol" from every other year. And that's OK with me because we love it, right? It was also a season of shocks. Casey was cut then saved. Pia's elimination dropped jaws. James Durbin fell victim to the Chirs Daughtry Top 4 rocker curse. Haley went from bottom to top. The season definitely had its moments.
So congratulations, Scotty. And thank you to all my readers. It's been a fun season and thanks for sharing it with me. Are we all looking forward to a summer of Idol judge speculations (will they stay or will they go?) and unfulfilled promises from Nigel? I am! Maybe we'll even hear "I Love You This Big" on the radio! Eh. Probably not.
Goodnight!