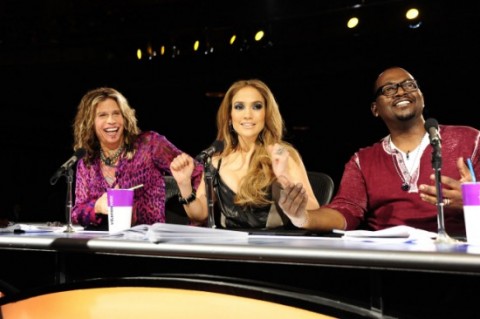 Update: You asked for it and Reality Rewind has the official complete list of the American Idol 2011 Las Vegas Round hopefuls.
Tonight's episode of "American Idol" was pretty cut and dry as almost every early favorite and emerging standout were put through to the new Las Vegas round. The rest of the night did feature some solo standouts and surprise duds.
Here's the rundown:
*Ashton Jones. Where did she come from? Out of no where, I say! She nailed Jennifer Holliday/Jennifer Hudson's "And I Am Telling You." We'll be seeing her in Vegas.
*Clint Jun Gamboa. I can officially say I dislike this guy. After Wednesday's terribly rude ousting of Jacee Badauex, tonight's arrogance and his ridiculous Harry Potter glasses, it's official. He's just not likable and he needs to remember America will be voting on him if he makes it to the Top 24. And let's face it, he'll make it. He's a good singer and further proved that tonight with his version of "Georgia On My Mind." He and his glasses were put through to the next round.
*Chris Medina and Carson Higgins. The show packaged these two together because they both chose to sing Bobby Brown's "My Prerogative." As I mention last night over at Reality Rewind, Carson is my new favorite contestant. He just kind of popped up last night with a great voice and fantastic stage presence. He's hilarious and I can't wait to see more and more of him. I preferred his version of the song over Medina's, but both did it justice in two completely different styles. Both made it to Vegas.
*Julie Zorrilla. She received high praise again and I still don't get it. I'm just not feeling her. I'm not sure what I'm not seeing that the judges are. Her version of Sara Bareilles' "Love Song" did nothing for me. She's off to Vegas.
*Colton Dixon, Bret Lowrenstern and Robbie Rosen. They quickly lumped these three standouts together because, I'm guessing, they're trying to avoid overexposure and know that it's clear they're not going to mess up. They're all through. Duh.
*Casey Abrams. I've kind of overlooked him up until tonight. His version of "Georgia On My Mind" was the best of the night. And there were a lot of versions. And who plays a stand-up bass on "American Idol"? Casey does. And it was pretty awesome. We'll be seeing him in Vegas.
*Chelsee Oaks. First she lost her ex. Then she lost her best friend. And tonight she lost all hope of making it any further in "American Idol." Chelsee completely blew her solo and was sent packing at the end of the episode.
*Lauren Alaina. Yes. She can sing. Yes she's 15. No there's never been a question whether she'd make it to the Top 24. I just hope tonight was the last time I have to hear her sing "Don't Want to Miss a Thing" by Aerosmith. I don't think she really needs to impress Steven Tyler any more. Vegas, here she comes.
*Jacob Lusk. Yet another star emerged tonight. He took on "God Bless The Child" and ended up giving us some scat, some falsetto and an overall voice that functioned like a machine. Welcome to the contest. He's off to Vegas.
*John Wayne Schultz. There he is! People have been wondering where he's been so far this week. He finally shows up and does a great gentle version of "Landslide" by Fleetwood Mac. Unless they forgot about him again, he's Vegas-bound.
*Ashely Sullivan. What a mess! I hope someone gives her some anxiety medicine. Even though she forgot all her lyrics and only sang about 10 words, she  made it through.
*Jacee Badaeux. I'm a fan. Trust me. I just hope I'm not confusing his sweetness with talent. He can sing but there's not a lot of power there. And I wouldn't even be mentioning this if he would've done a better job tonight singing "Time of My Life" by David Cook. Or maybe had he not picked such a terrible song. The judges let him through.
*Scotty McCreery. I've been wondering if Scotty only knows one song and I think tonight proved that might be the case. When he was finally forced to sing something other than his signature song he flopped. Even he said he should be sent home. But the judges clearly love his deep voice because he's off to Vegas.
Update: It's hard to get a complete list of who made it though tonight (and I'm not one to dig into rumors and spoilers), but here's a list of people we've seen a lot of that didn't make it through (If your favorite isn't on this list then they almost certainly made it through): Chelsee Oaks, Jacqueline Dunford (bailed out herself due to illness), Casey Levoy, Mark Gutierrez, Brielle Von Hugel, Caleb Johnson and Frances Coontz.