Last night on American Idol 2011 we pretty much got non stop singing throughout the entire hour.  I personally have to give Nigel some Kudos for focusing on the talent and not the idiots this season! 
We all get that Lauren Alaina loves Steven Tyler but get a grip and move your focus elsewhere.  It's getting rather annoying!  Chris Medina did NOT come through last night as I had hoped but crazy Carson Higgins sure made a name for himself.  I loved his take on "My Perogative" much better than Chris's who tried to be more like Andrew Garcia in my opinion.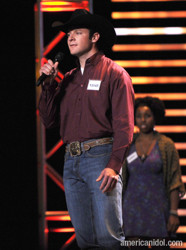 I didn't care for the upright bass singer of Casey Abrams last night but I'm sure he'll get praised immensely for being different.  Jacob Lusk left it all on the stage with his song "God Bless the Child" and burst into tears the minute he was done.  Jaycee came off a little pitchy to me and SPOILER ALERT he does make the Top 24!  I think he needs a year or two to mature. 
I loved John Wayne Schulz.  I'm not a huge fan of country but he has a really nice sound quality to his voice.  Ashley Sullivan is a big time mess and probably my least favorite to move on to Las Vegas. 
Pretty much everyone I'm pulling for is still in the competition.  Joe's Place is compiling a list of our top 24 spoilers and we should know some or all of them by Saturday.  She did confirm two and that's Jaycee and Brett Lowenstern. 
Who stood out to you last night in the solo auditions?