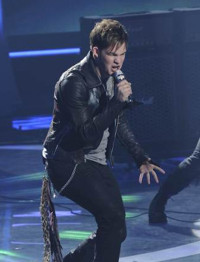 What is the deal with the judges for American Idol 2011?  Did they all swallow a happy pill before the idols took the stage?  I was NOT impressed with anyone with the exception of James Durbin who rocked the "Heavy Metal".  Finally we have a hardcore rocker to grace the idol stage but his voice is a little clean for straight up metal.  We would like to hear him sing some Judas Priest sometime if it's available. Guitarist Zack Wylde joined him on the guitar and he is one of the greatest guitar players around.  He played for the song "Porn Star Dancing" which is a kick @$$ song btw lol.  I was told he was the master of the "pick scream" and you can really hear it on the "Porn Star Dancing" single.  It was really a cool thing to have him on American Idol.
Paul McDonald pretty much sucked with "Old Time Rock and Roll".  This guy is getting on my nerves and it is time for him to goooo.  Another one who needs to get voted off is Casey Abrams.  I was like oh goody he's playing the upright bass again.  Yes! LOL.  He should have taken advice from Jimmy Iovine but went with his own choice and I thought it was awful yet the judges give him a standing ovation and say they hope America gets it.  Well guess what judges?  Maybe if you're a big jazz fan or something but the majority of viewers don't care for that kind of 1940's bs. 
Lauren and Stefano were ok.  I wasn't a fan of either song choice.  Lauren with "The Climb" was ok but that song is so Miley Cyrus it's hard to get past that and it did nothing to showcase her powerful voice.  All Stefano did was show us why we should have kept Pia in the competition.  I'm thinking if Paul is voted off tonight, he will be the new VFTW pick. 
Scotty took a risk singing George Strait because he is considered to most country fans to be like a god of country music.  I thought he did ok with it but he did get lost behind the back up singers a couple times.  I don't think he is as good as he is made out to be.  I happen to really like that song so I can give credit just for trying.
I felt bad for Haley.  I loved how she dressed.  She seemed more edgy last night and imo has come a long way from when we first heard her sing.  She is bashed by the judges and doesn't deserve it.  So far I am pretty much disagreeing with everything the judges have to say because I thought Haley nailed it.
What I don't get about Jacob Lusk is why don't the judges ever tell him to sing something more than just a ballad?  They gave Pia such a hard time about that yet we see time and time again Jacob doing the same thing and getting praised for it.  Yes he sings well and there was nothing technically wrong with his performance of "Bridge of Troubled Water" but then you remember Clay Aiken and how he had his moment with that song and for Jacob it was just another in a long line of same sounding performances.  It's getting a little old to me. 
 I'd love to see Paul or Casey go home tonight but the judges may have ended the career of Haley instead.  Whatever to Jennifer saying she doesn't want another female voted out.  I don't believe it for a second.
Who do you think is in danger of leaving tonight?