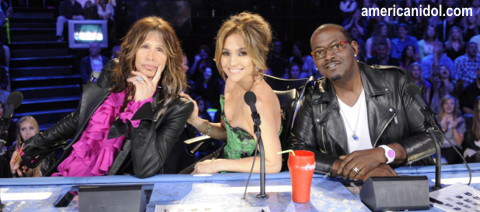 To borrow from Mark Twain, reports of Idol's death this season due to Simon's departure were greatly exaggerated. American Idol continues to dominate in the ratings and surpass recent seasons with a consistent climb of viewership.
According to TV By the Numbers, American Idol's Thursday night results show had a 13% ratings increase over last week's results show, peaking at 26.6 million viewers during its final quarter. Even more impressive though is that Idol was up 29% that night from its comparable show a year ago. Take that, Mr. Cowell.
Don't worry, I'm sure Simon will do very, very well with his X-Factor debut this fall. It's just good to know that the American Idol 2011 season can not only hold its own against last year but even crush it down pretty heavily as well.
Looks like that move to Thursday nights for results is working out pretty well so far for American Idol Season 10. I can't wait to see just how far it can go!