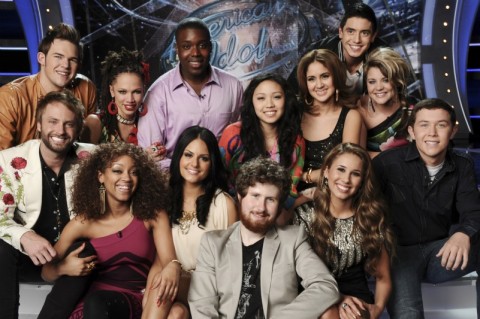 American Idol 2011 Top 13. Fox photo
It was a crazy night on "American Idol." Somehow in two hours they managed to cut 14 contestants, make six sing, bring back three and premiere Jennifer Lopez's new video. Aaaah.
After naming the Top 10, the judges, on the spot (yeah right… as if the entire night wasn't rehearsed), picked six contestants America did not like and made us hear them sing again, before picking 3 of those to form the American Idol 2011 Top 13.
In order of performance (I'm not grading tonight since it doesn't matter what we think)

*Ashton Jones, "And I am Telling You." I was surprised America passed on her last night. But I'm glad she got a second chance. She picked a fighting song to help earn her a chance at staying. And fight she did. Best song choice of the night.
*Stefano Lagone, "I Need You Now." Again, I'm surprised America passed. And again, I'm glad he got a second chance. I'm not familiar with the song he chose, but he sang the hell out of it. It seems to be a really hard song to sing and he nailed it. And tell me you don't want to pinch his cheeks.
*Kendra Chantelle, "Georgia On My Mind." She got off to a bad start with this one. The rest of the song came off a bit shirll. She did hit some pretty good notes near the end. Her fate was pretty obvious though.
*Jovany Barretto, "Angel." Why did they pick him? Why not Brett? Why not Tim? His singing was solid but it's something he has to work out. A lot can be said about an effortless singer and he's just not one of them. So I have nothing else to say.
*Naima Adedapo, "For All We Know." I don't hate The Janitor. But she does nothing for me. I was hoping they'd pick Lauren Turner. I feel like they wasted the spot on Naima because she's going to keep singing those really old songs that all the 12 to 15-year-old voters don't get. She'd be gone by next week or after. Waste.
*Robbie Rosen, "Sorry Seems To Be The Hardest Word." I was so excited he got another chance! But then he sang a sleepy song as opposed to a fight-for-it song. He did a great job. He was tender and effortless. But not exciting enough to make it.
At the end of the performance, I wrote this in my notes: "I'd choose Ashton, Robbie and Stefano." They chose Ashton, Stefano and Naima. Two out of three isn't bad.
I guess the Top 13 is an OK Top 13 (see the American Idol 2011 Top 13). I'm happy that Paul McDonald, Scotty McCreery, Ashton Jones and Pia Toscano are in. If any of those go within the first two weeks, it's going to be a LONG season for me. Because I can't imagine any of the others growing on me. OK, maybe Lauren Alaina will. But I'm not ready to admit that yet.
I'm especially bummed that Lauren Turner, Robbie and Tim Halperin are gone.
What are your thoughts on the Top 13? Who were you happy to see in and sad to see go?