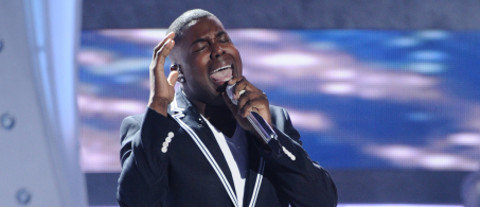 Tonight on American Idol the finalists pool will shrink by one as the lights dim and Ryan Seacrest reveals the results of your votes. Most of the performers were on top of their game last night while others were either diving fast or acting like it was their victory lap. With three weeks left to go in the competition there's no excuse to coast at this stage.
We're still not sure if there will be a real Bottom 3 tonight or if the results will be semi-random again tonight, but we're ready to deliver the news however it's done.
Join other fans in our Idol Chat room right now and see what other Idol fans are saying right now on our Idol Facebook page.
Ryan lets us know there were more than 60 million votes last night!
There's also a reminder about the summer tour tickets on sale May 13th.
Even bigger news is the first 3 dates were announced for the American Idol 2012 auditions! St. Louis on June 28th, Portland on July 2nd, and Oregon on July 22nd. We'll have the rest of the details posted soon.
Seacrest reaches for the results envelope, gives us Jimmy's reactions for James and Lauren and then sends them to opposite sides of the stage. Several JLo marketing promotions for her new album while we wait for any substantial results.
Jimmy gives his feedback on Jacob and says he was off on both performances and was a "6" for the night. Ryan sends Jacob to stand by Lauren. When it's Haley's turn Jimmy gives her high praise with a "10" for the night. Ryan tells Haley to stand with James. Scotty earns praise for his first song from Jimmy, but not so much for his second.
Ryan reveals big news. Scotty has not been in the Bottom 2 all season long and tonight is no different. Scotty is safe this week.
Ryan asks Scotty to pick which pair is safe, but Scotty refuses. Seacrest leads Scotty over to Haley and James then announces all three are safe.
American Idol 2011 Top 5 Bottom 2:
American Idol 2011 Top 5 Elimination Results:
We're treated to a Screamin' Jacob montage and then he closes out the night with a rendition of Luther Vandross' "A House is not a Home."
You can download all of this week's performances on iTunes or you can get the original artists' performances for free with Real's SuperPass trial.
Did America get the vote right this week? Share your thoughts!