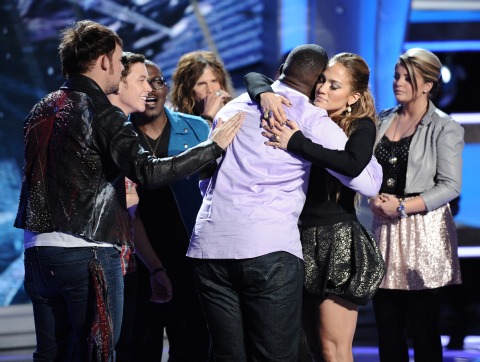 It was no surprise that Jacob Lusk was sent packing on "American Idol" Thursday night. I've been ready for him to go ever since he told me I don't like what I see when I look in the mirror. Not that I know what that even means, but I took it as an insult. Anyway, he's gone and we have a Top 4: Lauren Alaina, Scotty McCreery, Haley Reinhart and James Durbin. I have to say, I'm quite pleased with this season's Top 4.
Pardon me while I sound like a broken record, but can someone tell me why oh why the Thursday results shows are an hour long? While this week's episode wasn't as painful as last week's, it was still filled with too much filler and Fox pimping.
The opening number "Happy Together" sounded decent, but it was so long. The Hell's Kitchen filler was pretty entertaining, but the Ford video was a snore. Lady Antebellum took the stage as "Idol" further embraces the country genre this season. Then there's more filler.
Finally, Ryan starts with the results. James is up first and is sent to the far side of the stage. I knew immediately that he was going to do that two groups of two thing with the last person being safe and then asked to join the group they think is safe, which they never actually do. Pardon that run-on but there was no other way to express that thought.
Lauren is up next and she is sent to the opposite side of the stage. It was pretty obvious to me that she was going to be in the bottom, because there's no way I thought James would be. America loved his tears Wednesday night.
Time for another performance. This time it's Jennifer Lopez performing "On The Floor." And it's CLEARLY pre-recorded but they tried very hard to make us think it wasn't. Even going as far as pretending Jennifer was off changing clothes after her performance. It sometimes make me wonder if they fake this, what else do they fake…
More results. Jacob is told to join Lauren. Even more obvious that's the Bottom 2. Haley is sent to join James. Finally, Ryan tells Scotty he's safe and tells him to join the group that is safe.  Like every season, he refuses, so Ryan pulls him over to James and Haley's group and tells them they're all safe.
Ryan also points out (like I did last week) that Scotty was NOT in the Bottom 2 last week with Casey, meaning he's never been in the bottom.
So it's Lauren and Jacob in the Bottom 2 and Lauren is already crying. That girl needs to get a hold of her emotions and fears or she's going home next week.
Jacob is eliminated and gets to sing one last time. For the first time this season, I enjoyed his performance. He actually seemed to have some personality at the end. Good for him.
I almost thought it was Lauren who was going home since Ryan earlier said the results might surprise us. I guess the surprise was that she was in the bottom instead of Haley. Speaking of Haley, she has really turned her position in this contest around. She very well might make the Top 3 and possibly the finale. That is unless Lauren's fans were scared by her spot in the Bottom 2 and step up their voting next week.
Another question that comes up is where will Jacob's votes go? Not to Scotty. Not to James. I guess they'd most likely go to Lauren. But even that seems weird. Next week is going to be very interesting. The ONLY thing that I'm 98 percent sure of is that Scotty will be fine next week and the week after, thus putting himself in the finale. But who is going to join him? James? Or is that too obvious. Lauren? Will her fans vote harder now? Or Haley? Has she finally convinced America to vote for her? This is so uncertain it's actually kind of exciting.
What are your thoughts, hopes and predictions?