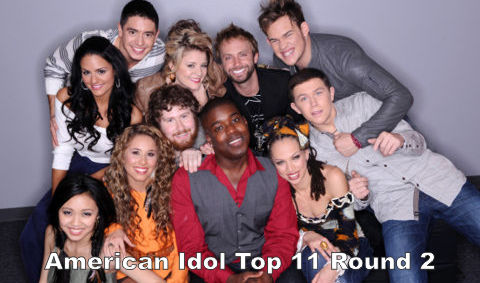 We hope you're ready for more of the American Idol 2011 Top 11 because here they come all over again this week. Last week the decision was made to put the Judges' Save in play and keep Casey Abrams around for another try after America eliminated him from the competition. Turns out Nigel was right. That was some shocking news indeed.
This week the Top 11 singers will hit the stage and belt out songs from the catalog of… wait for it… Sir Elton John. I'm sure this will bring plenty of interesting selections and performance, hopefully most of which will be positive but I think we can count on this crowd for a few cringe worthy moments. The hopefuls will want to tread lightly as they keep in mind that the Save is gone which now forces a double elimination event come Thursday night. Oh the drama!
The good news just kept coming for American Idol this past week when the ratings hit the reports. The final numbers put Idol at 21.3 million viewers for Thursday night's results show with a 6.4 rating in the 18-49 adult demographic. All those numbers translate to an 11% ratings increase for the night. Whoa! Idol is kicking butt and taking names this season week after week.
One final nugget for your Idol weekend update: the American Idol 2011 Live Tour has been confirmed to feature this season's Top 11 singers. Having previously been limited to the Top 10 this summer's circuit with have that extra boost from one more performer. No tour dates have been announced just yet, but if you sign-up for our free newsletter then you'll get all the information you need when the tickets go on sale.
Any Elton John song recommendations you'd like to share with the Top 11 singers?
Source: Idol on Twitter & TV by the Numbers