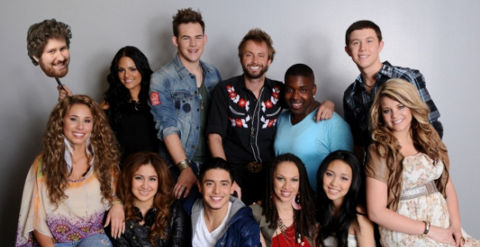 Whoa, what a week! American Idol has brought itself back to its more comfortable Top 12 status after last week's elimination of Ashthon Jones. Branden not only accurately predicted Thursday's bottom three, but so did all of you thanks to over 46,000 votes which put Ashthon, Haley, and Karen in the lowest spots.
This week we'll see the remaining singers return to a familiar theme when they perform songs from the year they were born. Fingers crossed that Casey Abrams will be all healthy and stress-free for this week's performance so he doesn't turn into another floating head like he is in the picture above (that earned a fast second glance!). I'm also hoping that they'll keep the visits to real life music producers going each week. That was an awesome touch and probably a little more useful than Jamie Foxx getting up in their face and demanding a staring contest.
On Thursday night's results show we'll get the return of Lee DeWyze, last season's winner, (no word yet on the song) and even a performance or two from The Black Eyed Peas. Let's see if they bring back their Tron-inspired Super Bowl dancers!
So get ready for Wednesday night's performance show and Thursday night's results. Take a look at some photos below from the American Idol 2011 Top 12 rehearsing and relaxing at the studio as they prepare for the next round.
click images to enlarge
Side note: Huge thanks to Ashlie Rae and Branden for holding down the fort last week while I was gone. Who knew one little trip could offer up volcanic eruptions, earthquakes, and tsunamis all in one week? It was like a real-life Michael Bay movie!