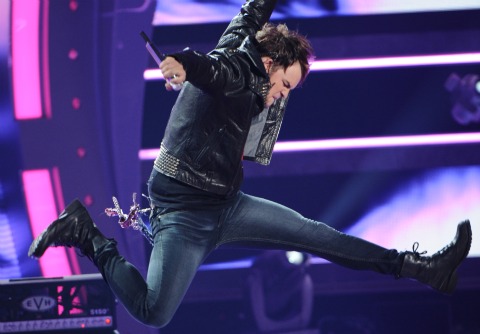 Can we please just pretend the first round of "American Idol's" Top 4 performance show never happened? From the incredibly boring and lame songs to Randy Jackson's nasty attack on Haley, I thought it was going to be the worst "Idol" I've ever seen.
Why does Randy seem to really have it out for Haley. She's the only person to receive bad critiques from him for weeks.
Luckily, things got much better during round two. So as usual, I'll review each performance and assign the letter grade I think they deserve. Please note that from now on, I'm grading on song choice, stage presence and vocals. We know by now they can all sing, so that's not enough to be judged on alone.
In order of performance
*James Durbin, "Don't Stop Believing." I love this song. But it's kind of time for it to take a break. From "The Sporanos" finale to the "Glee" premiere, it's kind of overdone. And it's a big song from a great big amazing voice (Steve Perry). So there's no way you can sing that song and not be compared to Steve. Especially when you don't try to switch it up any. And even though I like James, he doesn't compare to Steve Perry. His vocals were better than last week, though. So that's good. B
*Haley Reinhart, "The Earth Song." I've never heard this song. I expect a lot of people haven't. It turns out that it's a very boring song (And I don't care if Michael Jackson did write it so don't bother pointing that out to me) I've grown to really like Haley, but I didn't like this song choice at all. It's definitely a song I'd skip on my playlist regardless of who recorded it. Actually, I'd probably delete it from my playlist. Her vocals were good, but like I said earlier, at this point, that's not quite enough.  B+
*Scotty McCreery, "Where Were You When The World Stopped Turning." Oh Scotty, why didn't you just sing "Ding Dong bin Laden's Dead"? Or "The South's Going to Do it Again." Sorry, I like Scotty, but I hated this song. I thought it was gimmicky, preachy and hickish. But worst of all, it was boring. Scotty never has a bad vocal though and that's the important thing. But if I'm grading on all points, it wasn't good. B
*Lauren Alaina, "Anyway." Lauren had a rough start with the song, but it got way better. Her vocals were better this week and she gets the best song choice of round one. A-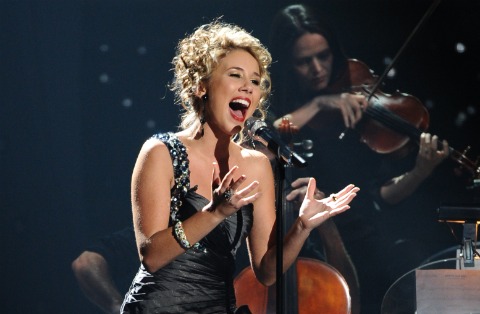 *Haley, "I (Who Have Nothing)." I actually picked this song for Lauren, but I'm glad Haley did it instead. She slayed it. It was one of the best performances of the season. I can't believe I actually agree with Jennifer on something. Way better than round one. A+
*Scotty, "Young Blood." I'm usually way more into Scotty performances but tonight he did nothing for me in either round. This one came off as boring and just weird. He was kind of prancy and prissy and that just looked weird from him. It was vocally good, as always, but I just didn't like the performance. B+
*Lauren, "Trouble." I'm so happy someone finally went out of their comfort zone this season. I'm very proud of Lauren for not being too self-righteous to think America is going to think she's evil just because she sings it in a song. That thinking was one of the reasons why I disliked Jacob Lusk. So props to Lauren. On top of that, it was also a good vocal and a good show. A
*James, "Love Potion No. 9." Once again, better this time around. Better vocal, better song, better show. Round two was so much better than round one for everyone. A
The Averages
James: B | A | B+
Haley: B | A+ | A
Scotty: B | B+ | B
Lauren: A- | A | A
And before I'm called out for being a big mean jerk for my reviews, please note that the grades aren't even bad. My words may have been tough, but if I took away the poor song choice factor and only graded on vocals, everyone would've received As.
And now, the impossible task of trying to figure out who will go home based on America's votes. As always, these picks are based on just that — NOT my personal opinions, but what I THINK the outcome of America's votes COULD be.
100 precent safe: Scotty McCreery
Not 100 percent safe: James Durbin, Haley Reinhart, Lauren Alaina
Possibly going home: Lauren Alaina
My thinking: This is a tough week to predict. There's no clear loser of the week. The judges were terribly hard on Haley, so that could send her home. I mean they're clearly trying to achieve that, especially Randy. But she's picked up so many fans during the past couple weeks. Lauren was in the bottom 2 last week, so she be the most obvious person to go home. BUT her fans could've been scared into voting after her bottom finish last week. So maybe Haley will actually go home. Or maybe something crazy will happen and James will leave. Nah. It'll be Lauren or Haley.
What's your prediction and overall thoughts on tonight's show?