There's less than three weeks to go on American Idol 2011 as the competition heats up and the songs get boring, really boring. If you thought Carole King music from the 70's was out of date and out of touch then hang on to your butts!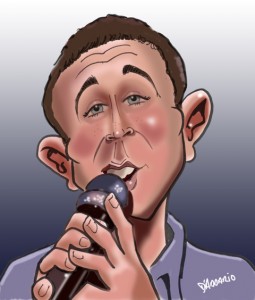 This week the Top 4 singers will take on 1950's post-World War II hits from Jerry Leiber and Mike Stoller. I am not kidding. Haley, James, Lauren, and Scotty will be doing hits like "Yakety Yak [Don't Talk Back!] from before their parents were probably even born! I'm thinking of heading down to the nearest retirement home for a viewing party this week so I can hear stories about how they would go to the local sock hop with their friends and buy drinks for everyone for just a nickel while listening to these hits.
Idol, I seriously don't understand you. Let's review. The week you use 70's songs from Carole King the ratings are down 5%. The week you at least include modern songs the ratings are up 7%. Does someone have this chart upside in a meeting room somewhere? 70's songs two weeks ago. 60's songs last week. 50's songs this week. If they keep this up they'll have to change the show's name to "13 Colonies Idol"!
In an odd twist, Idol will welcome Lady Gaga to mentor the aspiring singers this week because nothing says post-World War II songs like a bikini made of red meat! I'm anxious to see if there's any exchange between Lady Gaga and Haley Reinhart regarding the song choice last week that earned such sharp criticism from JLo.
On Thursday night's results show we'll get the return of Jordin Sparks to perform a single and then judge Steven Tyler will hit the stage with his new solo song "(It) Feels So Good." After that Ryan will break out the envelope and reveal who is eliminated and who moves on to the Top 3. May 25th, here we come!
Image credit: Dan D'Addario