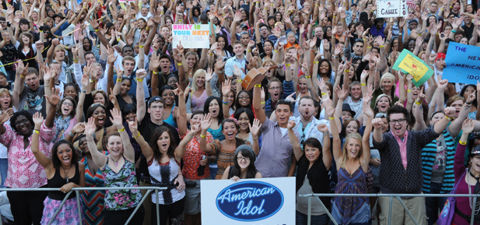 Think you've got what it takes to be the next American Idol? Well here's your chance. FOX has announced the first round of audition events for American Idol 2012. We'll keep this list updated as more are announced. Sign up for our free Idol newsletter and you'll get the latest Idol news sent straight to your inbox.
American Idol 2012 Auditions:
American Idol 2012 Audition documents:
If you go to an audition be sure to send us pictures to share with everyone.
Update: Ryan Seacrest mentioned Denver, CO had been added to the list, but Idol has still not added it to the official list or made any reference to when that event would be. I'll continue to watch and update as more information is released.
Update 2: We're still waiting for any signs of life from American Idol and FOX regarding the auditions for 2012. In the meantime user AngelaDove posted the following narrative of her experiences from trying out the past few season:
I've additioned three times and made it through twice, so I just thought I'd pipe in about a few things that I've seen people post incorrectly. In past years, including last year, registration opened in the morning two days before the audition day – you can register anytime from the open of registration to the close of registration, which is typically the morning of the audition day (at like 7am or something).

The order in which you register will usually determine the order in which you audition, but I have never seen anyone get turned away for registering later than others. I've registered as late as 6pm on the 2nd day and I made it through that year (I've actually never registered the first day) – I also know someone that made it through last year, who literally registered at like the last second, around 7am the day of auditions.

Obviously, they don't have forms, etc. up yet, but I'd guess they'd have them up this week. It's typical for them to be up about a week before the first date, though they won't necessarily have specific info up for ALL cities at the same time. The forms aren't anything big, so don't worry about that until they're out.

Oh, and you can sing any song you want the first time.
We can't verify any of that information, but if it's true then I thought it'd be helpful for those of you already panicking.
Update 3: Finally! FOX just released the American Idol 2012 audition dates and locations. I've updated the list below with the additional cities and all the information announced. If it isn't listed here then I don't know it.