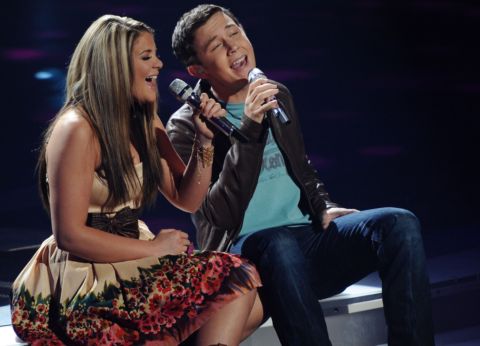 I said this week's "American Idol" would be boring following last week's elimination show recap. I thought this young group doing Carole King songs would never work. I stand corrected. It worked and it ended up being a pretty decent episode. We also got what I think is our first premature winner prediction from Randy Jackson when he said James Durbin could win the whole thing. (I said "think" so be sure to rush to the comments to prove me wrong if one of the judges had previously said something like that).
As always, I'll review each performance and assign the letter grade I think each one deserves. However, I won't be grading the duets.
In order of performance
*Jacob Lusk, "Oh No, Not My Baby." Same ole, same ole. I could honestly pull a Jacob review from four weeks ago and slap it into this spot and it would be completely relevant to tonight's performance. Nothing more. Nothing less. Jacob peaked weeks and weeks ago. It's time to go. I guess his vocal was fine, but that voice. I can't take it. C+

*Lauren Alaina, "Where You Lead." I was ready to throw things when I saw Miley Cyrus, but luckily Lauren's performance made me forget all about that hack. Lauren managed to make that song sound brand new. And I was amazed at how she completely handled it like the song was her own. Lauren might be immature and playing dumb, but she is very talented. A
*Casey Abrams and Haley Reinhart, "I Feel The Earth Move." I'm not a Casey fan, but that was a fun duet. Those two really feed off each other and  have compatibility. Are they dating or what? Anyone know? I don't follow the "Idol" gossip.
*Scotty McCreery, "You've Got a Friend." If this is Scotty really "going at it" then I'd love to know his definition of "going at it." This is one of the most dreary songs in King's songbook. It's not a bad song, it's just depressing. That being said, Scotty did do some new things with his voice and pretty much nailed the vocal. While I don't think it was "going at it," it was still a great performance. A
*James Durbin, "Will You Still Love  Me Tomorrow." In Tuesday's blog post, I said I hoped Lauren would sing this song. It's one of my favorite songs ever, so I really wanted to hear it tonight. I never once thought I'd hear it come out of James' mouth though. But you know what? I was VERY pleasantly surprised. I've always graded James fairly, which means he's gotten a lot of high marks from me. But I've never been a fan, really. I'm a fan now. This was the moment. This reminded me of the moment I became a David Cook fan during his season. When he pulled out his amazing version of  Mariah Carey's "Always Be My Baby," I was hooked. I think that may have happened with James tonight. Maybe I'm biased because of the song, but I think it was the best performance of the night. I might even download it from iTunes (which would be the first time for me this season). A++
*Lauren Alaina and Scotty McCreery, "Up on the Roof." This wasn't their best duet, but it was a sweet little performance. They sound well together but they don't have the same chemistry of Haley and Casey.
*Casey Abrams, "Hi-De-Ho." First I'll say I'm so annoyed with Casey's "mmms." I don't known why, but I am. Actually you what? I hate his style of singing so much that I don't think I can fairly grade him any longer. I recognize that he is a musical genius, but I don't want to hear him sing any more. And since I recognize his talent, it's not fair for me to give him the low grade I want to give him, so I just won't.
*Haley Reinhart, "Beautiful." I really liked that Haley just sang this song without any gimmicks. It was time for her to relax the growling. If only Casey could take a page from her playbook. I don't think this performance was as strong as Haley's the past several weeks. While it was still good, I think she shot herself in the foot with the song choice. She probably should have picked something more well-known. Haley doesn't have the freedom of really performing for herself like some of the others. And not to mention Randy is still trying to get her sent  home every week. Wonder what his problem is with her. She's in danger this week. B+
*James Durbin and Jacob Lusk, "I'm Into Something Good." Worst duet pairing ever. Actually, I didn't hate it as much as I thought I would. It was just all very weird. Thanks to reader Kaitlyn for pointing out that I totally forgot to recap this duet. Maybe I was trying to block it out. Ha.

And now, the impossible task of trying to figure out who will go home based on America's votes. As always, these picks are based on just that — NOT my personal opinions, but what I THINK the outcome of America's votes COULD be.
100 Percent Safe: Scotty McCreery, James Durbin
Most Likely Safe: Lauren Alaina
Possibly the Bottom 3: Jacob Lusk, Haley Reinhart, Casey Abrams
Possibly Going Home: Haley Reinhart
My thinking: So this week is a weird one. By all thinking, Jacob should go home. He's been in the bottom 3 a couple times now and he barely escaped elimination last week. But this week, he actually showed some personality on camera. He could've spared himself. So, in that case, it'll be Haley who goes. I could be wrong. It could still be Jacob. But I don't think it'll be anyone other than those two. As for the bottom 3, I'm never really sure what's going on with Casey's votes. Polls always rank him very low, but he hasn't been in the bottom since the judge's save. So he could easily trade places with Lauren, putting her in the bottom.