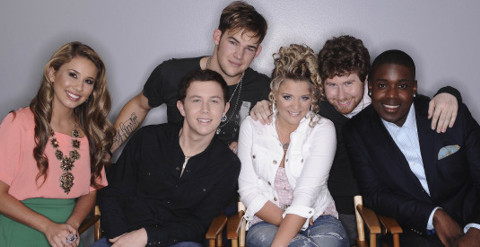 Then there were six. Can you believe we are down to just six American Idol 2011 Hopefuls left since the show started more than three months ago? There are just five weeks left in the season until one of the remaining singers is crowned the winner. Has your favorite made it this far?
This week on American Idol the Top 6 will be performing songs from Carole King's catalog and, as the discussions here on the site have shown, she's got quite a lengthy set of songs to browse. It'll still be a 90-minute performance show, so get ready for even more filler and fluff!
On Thursday night's results show we'll get the return of last season's Crystal Bowersox and then Bruno Mars. I wonder if he'll throw his hand on a blade for us? Maybe jump in front of a train for us? Well if nothing else, it'd be nice if he'd jump on a grenade for us! What? Am I the only one tired of hearing that everywhere?
I'm hoping American Idol can pick itself up this week after dropping 13% in the ratings this Thursday from the previous week. Was it that much of a snoozer?
Let's hear who you're expecting to shine this week and who could be in real trouble.
Side note: I migrated the site to a bigger, better server this morning so most comments between 0900ET and 1200ET were lost. Nothing personal in case you thought your comments were deleted!