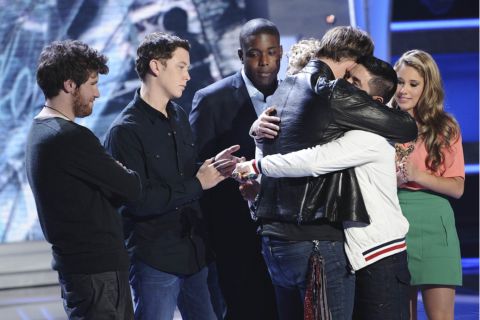 For weeks on "American Idol," Stefano Langone has been toying with America. From being eliminated to becoming a wild card pick, he held on week after week, despite landing in the Bottom 3 most of the time. Thursday it finally came to an end as he was sent packing.
I was almost certain he'd continue his streak at least one more week and send Jacob Lusk home (OK, maybe I was just hoping really hard). Jacob's elimination wasn't all I was wrong about. I was also pretty certain Haley Reinhart would escape the bottom, pushing Lauren Alaina there. But that wasn't the case. It does seem Haley was barely in the bottom though since Ryan Seacrest immediately relieved her of her Bottom 3 duties.
At the beginning of the night, we got a pretty rough performance from Lauren, Haley, Stefano and Jacob when they took on Train's "Soul Sister." But that was by far better than Casey Abrams, James Durbin and Scotty McCreery's Coldplay cover. It was horrible. You know it's bad when out of those three, Scotty sounded the best (you  know, since he never sings anything other than country).
I just want to know why the make Casey and Scotty  dance. They can't do it. It's always a hilarious spectacle.
Next we get the first round of results. Ryan asks Casey and Jacob to stand up. He gives the rundown from the night before and tells Casey he is safe. And to no one's surprise, Jacob is the first planted in the Bottom 3.
David Cook then returns to the "Idol" stage and doesn't sound very good either. I'm really starting to think the new person in charge of sound just really blows. Because David never sounded bad on that stage before tonight. Weird.
Then we get more pointless filler. Who cares that they went bowling or went to a spa. They're mostly teenagers. They don't need that luxury.
Finally, more results. Ryan brings Lauren, James and Stefano to center stage. He first sends Stefano to the Bottom 3, again no surprise there. James and Lauren are sent to safety.
Then it's between Haley and Scotty. Gee, I wonder who is in the bottom between these two? It was a surprise for Haley to be back in the bottom after her performance on Wednesday night, but when it's just between her and Scotty, there's absolutely no surprise. So Scotty is safe and she's not. Oh, and we find out Haley has no idea what the word "niche" means.
After a completely canned performance of Katy Perry dressed as Lady Gaga an alien that Ryan pretends is live, we get to the final results. Jacob or Stefano? We already know what happens (and what should have happened), so I'll spare the repeat. Jacob, pack your bags next week!
What were your thoughts on the outcome and Thursday's episode in general? Who do you want to see go next? Who do you want to win this thing? And how boring will next week be when the theme is songs of Carole King?