"Uprising" wasn't just James Durbin's song choice for last week, it was his whole theme! The American Idol 2011 rankings were rattled this week when James hit the stage with possibly the most extravagantly executed performance of the season and skyrocketed to the top of the charts leaving most voters asking, "Scotty who?"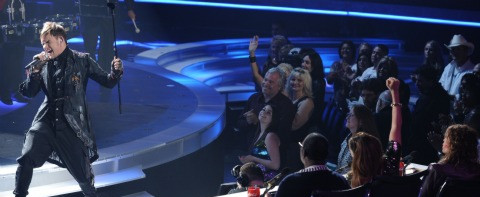 Durbin took a 13% increase in the polls after his performance of the Muse hit and now stands alone at the very top while Scotty, the season's most frequent #1'er, was left behind with the rest of the pack. Of course Scotty McCreery still did very well with a 19% share, down from last week's #1 with 23%, but maybe he should take note that the time to play it safe, or even cheesy, has run out.
Interestingly, the week's biggest loser was Scotty. His drop of 4% was just ahead of Lauren Alaina's 3 point drop and Jacob's 2 points. Scotty should still be doing just fine overall and still looks like a strong contender for the finale, but he'll need to avoid repeating that sinking sensation and remain competitive in this race.
Check out the rankings below and see how your favorite is doing. Keep in mind that these rankings are based solely on your votes in our weekly site polls.
American Idol 2011 Top 6 Performance Poll Rankings
James Durbin – 34% (up from 21% previous week)
Scotty McCreery – 19% (down from 23% previous week)
Casey Abrams – 14% (up from 13% previous week)
Haley Reinhart – 12% (up from 8% previous week)
Lauren Alaina – 9% (down from 12% previous week)
Jacob Lusk – 4% (down from 5% previous week)
We could be looking at a Haley, Lauren, and Jacob Bottom 3 this week.
How is your favorite singer doing in the polls? Better keep voting!
click image to enlarge