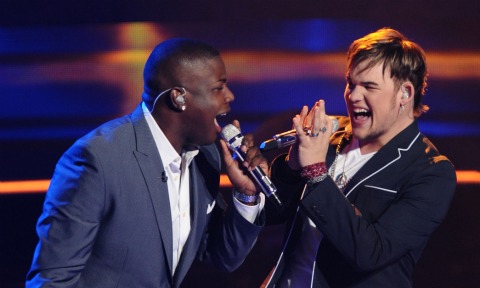 This week's "American Idol" theme is "Now and Then." That means the Idols will have to sing two songs: one current song and one song from the 1960s (please let there be a ban on The Beatles just this week — we've had enough Beatles). Hmmm. OK. Now how in the world am I ever going to suggest songs for them this week? It's going to be even more of a shot in the dark than normal. It's crazy, but I think I'm up for it. So what should they sing?
(Click on the "Now" songs to hear them on youtube)
*Lauren Alaina
Now: "You Lie" by The Band Perry. It's very country. But I think that's the route she's going. Right? I guess it could be too country for her and could be a risk, but hey, Scotty McCreery has made country fans out of a lot of people. She can do it, too.
Then: "God Only Knows" by The Beach Boys or "I Fall to Pieces" by Patsy Cline. Normally I wouldn't pick a Beach Boys song. Their stuff, for the most part, is happy and fun but has no substance. Except for this song. This one has a lot of meaning and heart. I could also hear her doing some Patsy Cline since she's a country girl and all.
*James Durbin
Now: "Sing" by My Chemical Romance. This is actually a pretty perfect song for James. It's a song that shows great voice range. It's edgy. It could easily lend itself to even more edge. James could have one of his pretty sweet visions with this one.
Then: "Paint It Black" by the Rolling Stones. I spent a lot of time trying to figure out the best song from the '60s for James and this is the only one I could pick. It's a great song and it has been done on "Idol"  before, but I think James could do something fun and fresh with it.
*Haley Reinhart
Now: "Jar of Hearts" by Christina Perry. I really wish Haley could just sing Adele again, but that would be a bad idea. "Jar of Hearts" kind of has that Haley sound. I'm not sure why the producers and judges don't think she knows who she is. I know. And I could hear her singing it. It's kind of dark, though. So her second song would have to be more upbeat.
Then: "Son of a Preacher Man" by Dusty Springfield or "California Dreaming" by The Mamas and the Papas. I've been wanting to hear her do "Son of a Preacher Man" all season. Someone tell her!
*Scotty McCreery
Now: "Country Girl (Shake it For Me)" by Luke Bryan. I've only got three things to say about this song: 1) It's country. 2) It debuted on Billboard's Hot 100. It's a hit. 3) It sounds like Scotty.
Then: "Bad Moon Rising" Credence Clearwater Revival or "Ring of Fire" by Johnny Cash. I'd really like to hear Scotty sing some CCR. They're pretty southern rock, right? Southern rock and country kind of go hand in hand. He could handle it nicely. And if not CCR, then Johnny Cash. You can never go wrong with Cash (unless you're Paul McDonald).
*Jacob Lusk
Now: "Forget You" by Cee Lo Green. I already suggested this once for Jacob. This song is everywhere (and that's becoming a bad thing) but people love it. And if it's even allowed on Fox since Cee Lo is on NBC's "The Voice," Jacob should do it. He needs to get America's attention if he wants to stay any longer.
Then: "In The Midnight Hour" by Wilson Pickett. Jacob REALLY needs to shake things up. He needs to rock things out. If that's possible. If he doesn't, he's going home.
What would you like to hear the Top 5 sing this week?