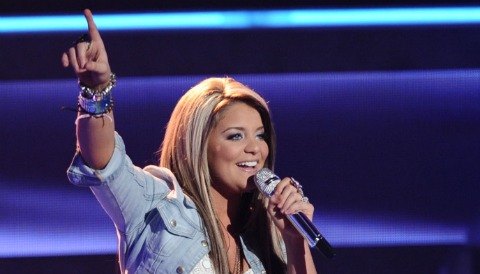 Well, this week the "American Idol" Top 6 take on songs of Carole King. I've already been chastised for suggesting it's going to be a boring performance episode and after a couple hours of research for this blog post, I stand by that statement. It's not because I don't like Carole King. It's because most of her well-known songs are over-played, both in the mainstream and on "American Idol."
I just can't imagine many teenagers digging the songs the contestants will sing. I predict voting will be down and a surprise elimination could be in store Thursday. Possibly.
When picking the songs I'd like to hear contestants sing, I decided to avoid most of the obvious ones ("So Far Away," "I Feel The Earth Move" and "It's Too Late"), even though I know they'll probably all sing those songs. At least I think we'll be spared hearing "(You Make Me Feel Like) A Natural Woman" again since it's already been performed on American Idol 2011.
Many of my suggestions weren't hits by Carole King, but written by her. In those cases, I state who recorded the songs. I imagine they're allowed to chose songs she wrote or co-wrote. If not, then few of my choices are possible. Ha.
*Jacob Lusk, "Up On the Roof" as recorded by The Drifters. To me, this is a pretty obvious one for Jacob. I could also hear him doing "The Reason," as recorded by Celine Dion because it sounds very inspirational.
*James Durbin – "Don't Bring Me Down" as recorded by The Animals. It has a very psychedelic '60s feel that could mesh really with with James' heavy metal spin. It's not that well-known, but that doesn't seem to be detrimental this season, so I hope he goes for it.
UPDATE: *Casey Abrams, "Some Kind of Wonderful." I originally had a brain lapse and thought this song was the other "Some Kind of Wonderful." But after figuring that out and listening to the real Carole King version, I remembered it's a beautiful song and any of the contestants could benefit from singing it. So I'll leave it as Casey's suggestion. I  just hope he doesn't do "Jazzman." It's kind of cheesy.
*Haley Reinhart, "Nightingale." Haley might need to do a more familiar song to stay in the game, so if she skips over this one, I'll understand, but it's the one song by King that I can really hear Haley singing. It's medium tempo and lends itself to plenty of Haley runs and "grrs."
*Scotty McCreery, "It's Going to Take Some Time." King and The Carpenters both recorded this and both versions had some country twang to it, so I think Scotty could do well with it (since he will apparently never step out of his comfort zone). I looked for songs with "country" and "cowboy" in the title, but couldn't find anything.
*Lauren Alaina, "Will You Love Me Tomorrow." I hope hope hope she does this song. It's one of my favorite songs (weird I  know). My favorite version is by The Shirelles, but Dusty Springfield also recorded it. Springfield influenced a lot of country singers so maybe Lauren could look at her version. Please don't do "So Far Away" and do this song instead!
What are your song suggestions for the week? And what do you think of the theme? Is it a good way to introduce the younger generation to one of the best singer/songwriters in history?