A little off our core subject, but since it involves two American Idol judges I thought I'd share it here. I can't say I'm surprised by this news, but Simon Cowell has revealed that he'll be putting a former American Idol judge in a chair next to him at the judges table for X Factor when it premieres in this fall: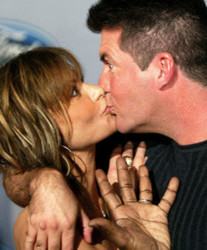 Simon has delivered on his promise two months late, but we'll take it.

Cowell revealed that Paula Abdul and Cheryl Cole will join him and LA Reid as judges on the upcoming premiere season of X Factor 2011 in the USA production.
Well look at that. Paula gets dumped by Idol after eight years of support, goes to CBS and gets dumped after one sad season of "Live to Dance," and then gets right back in to the arms of Cowell where it all started.
Join our X Factor Facebook page for X Factor Network!
Paula was just half of Simon's announcement though. Cheryl Cole, his current X Factor UK co-judge, will also be coming over to help him launch the USA version. Cole's name has been tossed around longer than anyone else and finally looks to be a reality for the UK singer as long as Simon isn't blowing smoke at us.
What do you think? Should Simon have brought in fresh perspectives or will a familiar face draw you in to give it a try?
Update: THR spoke with Simon's rep who says the last two seats have not yet been officially filled. Uh huh… Sure. I wonder if Cowell's wrist still hurts from getting slapped over letting that news out on his own.
Source: Deadline via X Factor Network