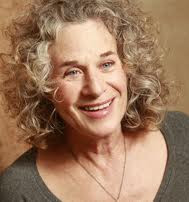 It's nearly show time! This week on American Idol 2011 the remaining six are performing songs from the catalog of prolific singer/songwriter Carole King. You might have asked, "who the heck is Carole King?" King peaked as a performer in the 70's, but she's been writing songs long before and long since. If you've turned on the radio then you've heard her work. You can read more on Wikipedia.
A bonus event for the evening will be duets performed by the final six singers in unknown pairs. EW reports this move comes as American Idol works to justify a 90 minute episode for about 15 minutes of singing. See, if they stopped the show at 9PM then everyone could shift their attention to NBC's The Voice (encore) and we know FOX doesn't want that happening, do they??
Be sure to catch Branden's weekly installment of what the Top 6 should sing as he walks through the King songbook. Of course these are just a few of the routes the Hopefuls could follow so let's hear what you think in the comments section below.
After a review of this week's rankings we could end up seeing both of the remaining ladies in this round's Bottom 3, but unless things take a surprising turn I think we're looking at the end of Jacob's journey.