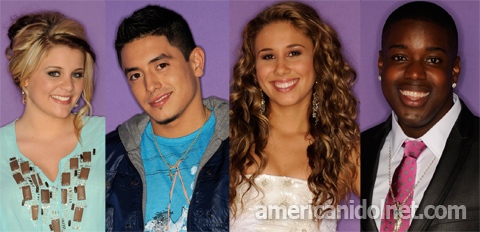 The "American Idol" Top 11 are set to perform Motown hits and while this theme is a little less broad than birth years, it's no easier to suggest what they should sing. But I've put together a list. I've also added in some side notes about what they should and shouldn't do. And just for the fun of it again, (and to undoubtedly produce hateful comments from certain fans) I'll place them in order from my favorite to least favorite):
*Paul McDonald – "What's Going On" by Marvin Gay or "Reach Out I'll Be There" by The Four Tops. I like Paul and I like the Four Tops' song a lot so I'd love to hear his spin on that one. But I think "What's Going On" might be more suitable for his style and range.
*Pia Toscano – "Heat Wave" by Martha and the Vandellas. She needs to speed things up. To me it seems like she can sing anything, so why isn't she? Last week she pretended to sing an upbeat song but she really didn't.
*Stefano Langone – "I Second That Emotion" by Smokey Robinson. I keep hearing "Stevie Wonder, Stevie Wonder, Stevie Wonder." But hasn't he already done enough Stevie? I think it's time for Smokey.
*Scotty McCreery – "Money" by Barrett Strong. Scotty is probably the toughest to pick a song for because of his country slant. But you can take any song and make it sound country. Especially when you have a voice like his. I think "Money"  could really suit him. Or maybe "Papa Was A Rolling Stone." Maybe.
*James Durbin – "Signed, Sealed and Delivered" by Stevie Wonder. I listened to a lot of songs trying to figure out what James should sing before deciding on this. I think it has the best energy and possibility for where James likes to take a song. However, I won't be surprised if he goes with "The Tacks of My Tears" by Smokey Robinson & The Miracles (in the style of Adam Lambert).
*Thia Megia  – "Don't Leave Me This Way" Thelma Houston. Thia HAS to do this song. She has to do an upbeat song. She said last week she could do an upbeat song, so I'm holding her to it. This is a great and underrated song and I think it could really push her above some of the other contestants.
*Lauren Alaina – "You Keep Me Hanging On" by The Supremes. I think I feel Lauren doing a ballad this week, but I'd still like her to sing this song. It has a young feeling and could be fun. Aside from song choice, what Lauren needs to watch is her immaturity. She and Thia are the same age, but Thia's maturity is so far above Lauren's it's insane. Lauren just needs to not act like she's 12 for five minutes.
*Haley Reinhart – "Love Hangover" by Diana Ross. I personally think this should be her only choice. I can really hear her pulling out the sultry and blues vibe she's got going.
*Casey Abrams – "Reach Out I'll Be There" by the Four Tops or "What's Going On" by Marvin Gay. Notice his choices from me are the same as Paul's. I think Casey could do great things with the Four Tops' song but it might be time for him to slow things down and soften up a bit. I know he's so low on my list because of all the angry screaming. He's very talented, but in order to add more fans, I think he needs to soften a bit.
*Naima Adedapo – "Living For The City" by Stevie Wonder. From all her pre-Idol footage, this song kind of reminds me of her. She seems to have had a bit of a tough life so I could see her relating to this song. And that's something she needs to do. She needs to really feel the song and make us feel it. And she REALLY needs to slow things down. A ballad could save her this week. Otherwise, she's probably going home.
*Jacob Lusk – "I Heard it Through the Grapevine" Marvin Gaye. Jacob was a tough one. I picked this song because it's a fun song that doesn't need to be overdone which is his trademark. He needs to hold back and stop over-singing songs.