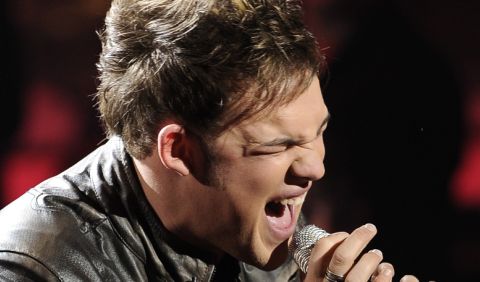 "American Idol" contestants had to sing hits from Motown tonight and I have very little to complain about. Song choices were mostly good. Ryan wasn't annoying. Steven seemed less bored than usual. Jacob Lusk and Casey Abrams didn't even make me want to bite off my own tongue. So I think that makes for a good week on "American Idol," don't you?
As always, I'll review each performance and give them a letter grade. And as always, you can weigh in with your thoughts as well.
In order of performance
*Casey Abrams, "I Heard it Through The Grapevine." Finally someone told Casey he needed to gain some control during his performances. And he mostly listened. He still came off as angry and not very fun to watch, though. I've finally decided why I don't really care for his performances. To me, they always seem very rehearsed. Nothing feels natural and effortless. It was still way better than last week. B+
*Thia Megia, "Heat Wave." Finally she chose an upbeat song. But it didn't work for me. I wanted her to sing something not slow and boring but when she did I didn't like it. It just didn't seem right coming from her. It's kind of weird and hard to explain. I even thought she sounded like Miley Cyrus a couple times and that's not a good thing. B-
*Jacob Lusk, "You're All I Need to Get By." Much much better. Way more controlled. And while some of his runs and notes still come off as semi-parody, I didn't hate it. I almost thought he was at risk at Bottom 3 this week until this performance (and the extra stage time for pimping). A+
*Lauren Alaina, "You Keep Me Hanging On." I chose this song for Lauren in my Tuesday blog post! It's the only one I got right, but hey. And she did a great job with it. I loved the slower beginning then the powerful jumpoff. She looked amazing and I really enjoyed her stage presence. A+
*Stefano Lagone, "Hello." I'm not sure what the judges saw because I picked up on a lot of emotion in his performance. While Jennifer Lopez was getting goosebumps from Naima, I was getting them from Stefano. And those goosebumps weren't just the first of the night, they were the first of the season. I thought it was flawless. A+
*Haley Reinhart, "You Really Got a Hold On Me." Ugh. She picked the wrong song. It just didn't work with her style. And she needs to cut down on the growling. It's so overdone. I've liked her pretty well so far, but her performance tonight just made me angry. I don't know, I just didn't like it. C-
*Scotty McCreery, "For Once in My Life." Again, not the best song choice, but I was happy he stayed true to himself (even though I'm not sure it's possible for him not to). I hope this shows him he can take a non-country song and put his country spin on it. Overall, it was fine. Not his best, but not bad. Everyone loves him though so it doesn't even matter. B-
*Pia Toscano, "All In Love Is Fair." I'm on strike from Pia until she sings something other than a ballad. She HAS to sing something different. It's getting ridiculous. That being said, I can't give her a low grade. Her performance was flawless. A+
*Paul McDonald, "Tracks of My Tears." I was happy to finally see someone with a guitar. And it helped keep Paul in one place. I think his dancing is irritating some people (not me), so that was probably a good move. It wasn't the best vocal of the night, but I think it was the best performance of the night. He's just so easy to listen to and watch. I loved it. A-
*Naima Adedapo, "Dancing in the Streets." I was so angry when I heard she was singing another upbeat song so she could dance. I thought she needed to sing a slow song to try and focus on her pitch issues. But I think she made a good decision. I didn't love the performance. She even clearly lost a couple notes, but she put on a show and that's going to blindside some people. So she'll probably make it through this week.  (Oh, and WHY did they spoil her dance break in the footage before her performance? Why does this show insist on being poorly produced?) B+
*James Durbin, "Living For The City." James picked the song I thought Naima should do, but I'm glad he did it. It was pretty amazing. I took no notes during his performance because I was too busy being entertained. But what was Randy talking about? He said James' start was rocky? Really? How stupid, Randy. It was a great performance. A++
And now, I'll try to look into the future once again and guess the contestants' safety and lack there of. (NOTE: These are NOT my personal rankings, but how I think America will see things. I thought that was clear, but some people are getting confused):
100 percent safe: James Durbin, Scotty McCreery, Lauren Alaina, Pia Toscano
Most likely safe: Jacob Lusk, Stefano Langone, Paul McDonald, Casey Abrams
Probably the Bottom 3: Haley Reinhart, Naima Adedapo, Thia Megia
Probably going home: Haley Reinhart
Tonight's performances were so good, that it's hard to predict what will happen this week. Naima could pull herself out of the bottom. In that case, I'd say Casey would drop into the bottom. If  Naima stays, then that is probably your bottom. Unless Casey and Thia change places. It's a tough call!