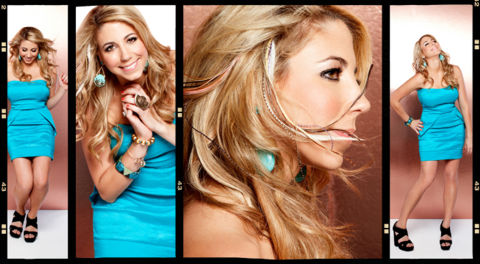 Last week on American Idol 2012 Elise Testone was eliminated from the competition, but like the rest of her fellow finalists, we'll get to see more of her on tour this summer. Elise spoke with THR's and Season 9's Didi Benami about her plans for what she'd like to perform and who she hopes to sing with again as a duet.
"On tour, I'm going to have the best time. I'm going to leave it all out there on the stage. I'm going to meet all the wonderful people who have been supporting us. And enjoy singing a whole song," Elise explained to Didi when asked what we could expect from her on tour this summer.
As for what songs you can look forward to hearing from Elise on the American Idol 2012 tour she had a few ideas in mind. "I want to give some suggestions to the tour manager… "A Whole Lotta Love," Led Zepplin, would be awesome but I don't know. I'd love to do some Adele on tour. I'd love to do some Jessie J."
Who would she most like to duet with on the tour? Phillip Phillips. Elise is hoping to reprise their "Somebody I Used To Know" performance out there on the tour.
What would you like to see Elise Testone perform on the American Idol tour this summer?