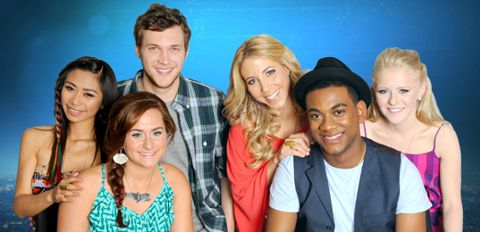 It's time for our weekly American Idol 2012 rankings based on your votes and this time we'll be looking at the Top 6 positions and what it could mean for the rest of this season.
Leading the pack is Jessica Sanchez, who found a double digit increase in her % overnight last week (read: international votes), with 50%. Jessica has continued to dominate the polls here even when she's had the lowest votes on the show which means we'll have to take her results with a grain of salt since we're not getting a clear picture of where she stands in the competition.
A sizable gap separates Jessica and the second place spot this past week where you'll find Skylar Laine. Skylar is another poll paradox as she had her second highest week here in our voting, but still found herself in the Top 6's Bottom 3. She managed to pull 13% of the vote, an increase from the previous week's 9%. Skylar will need to keep gaining support like that if she wants to press on the finale rather than ending up in the danger zone until it's too late.
Phillip Phillips holds the honor of again being the highest ranked male left in the competition with 12%. Phillip has earned double digits in the votes every week but twice in our polls with a steady spot at the top of the mid-ranks. Slow and steady might get him to the finale, but can it earn him the win?
BFF's Hollie Cavanagh and Joshua Ledet each shared 9% of the vote last week bringing them in at a tie for fourth place. Based on your votes I had expected to see both of these American Idol 2012 finalists in the Bottom 3 last week, but only Hollie faced that danger. Both of these singers have shown growth in their fan base over the season, but Joshua has slipped a little in recent weeks while Hollie has experienced the opposite effect. Despite peaking later in this season's polls than Joshua, it seems like Hollie will heading home sooner.
Then there was Elise Testone. Elise managed to escape the single digits of votes only once this entire season and with 4% of the poll's votes this past week her elimination wasn't any surprise. It was the second week in a row for her to earn just 4% and the third time in four weeks for that to happen. Elise was hanging on by a thread for quite some time and it finally snapped. Her fans shouldn't be worried though as she's got lots of plans for what to do next.
With just a few weeks left until the American Idol 2012 finale the pressure is on for the remaining Top 5 finalists. We'll soon find out who is willing to still take big risks and who wants to play it safe and hold out for the final round.
click chart to view full-size version